J.P. Gericke of Death By Stereo and Austrian Death Machine is joining the Charvel family.
And Gericke seems pretty fired up.
The guitarist added a photo of himself with a Charvel piece in his Twitter avatar, tweeting, "Got my @CharvelGuitars Desolation DS-1 ST in flat black yesterday. This guitar is owning my life! Stoked!" last week.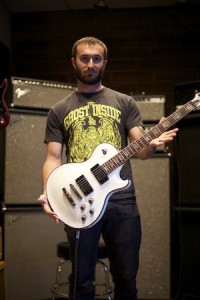 Gericke and Death By Stereo are scheduled to get back in the studio soon and will embark on an extensive European tour with Agnostic Front and Naysayer in 2012.
But before a new album drops, the band released a rough mix of the new song "WTF IS GOING ON AROUND HERE?" via their official Facebook page.
Photo credit: Mike Tempesta