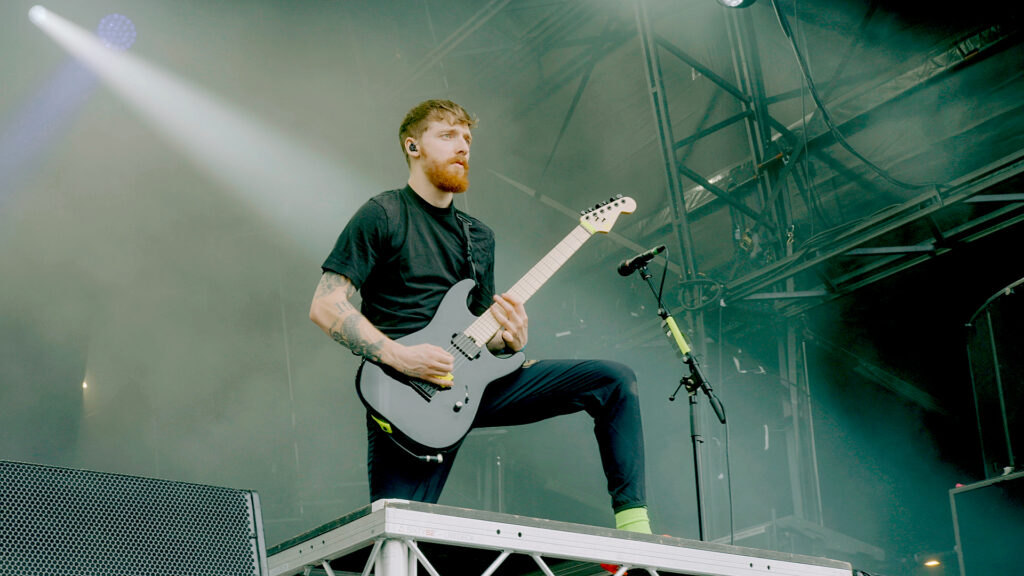 While tearing up the metal scene over the last 15 years, U.K. metalcore stalwarts While She Sleeps has forged their own trail with a DIY approach to recording, promotion and touring. Their high-energy live performances have amassed a devoted group of fans around the world, and latest album, Sleeps Society, incorporated the launch of their fan-oriented community of the same name, providing a platform for the band to share insight into their inner workings with their fans on an unprecedented level.
At the forefront of the movement is founding member, guitarist and primary songwriter Sean Long. A self-described perfectionist with a love for searing riffs and avant-garde expression, Long is a true artist. And now, he has a guitar to his name to match his uncompromising vision.
The new Charvel Sean Long Signature Pro-Mod San Dimas Style 1 HH HT M is the perfect embodiment of his high-speed playing, scorching tone and eccentric style.
"If you could transfer me into a guitar, this is it," Long said. "It scares me how perfect it is. It is exactly what I wanted. It feels the way it was in my head.
"Seeing this come to life was a total dream. The fact that I failed school and college, I haven't had a single guitar lesson in my life along with knowing zero music theory, this guitar is a reflection of what's possible regardless of your 'professional credentials.'
"Doing my own thing with this band, making my own music and standing behind it, it just goes to show that if you really believe in something, just fucking go for it. I want people to see that if I can do something like this, then they can too."
Long started playing guitar as a teenager in 2003. After skateboarding with friends, he noticed they kept disappearing for band practice. Long wanted in on the action.
"I felt super left out, and I thought, 'Whatever you guys are doing in there, I need to be a part of it," he said.
Eventually, his parents bought him a Squier Stratocaster, the neck of which he still owns and helped inform his namesake model.
Of course, a lot more went into it.
Long wanted to add some pop to the sinister Gloss Black finish by including a fluorescent yellow pickup in the bridge position, a fiery EMG 57 humbucker that evokes an unmistakably PAF quality with plenty of headroom and punch for unparalleled definition and presence. That's in addition to the neon yellow Charvel logo on the headstock, which further stands out on stage.
"Most of my music and most of my playing is predominantly bridge pickup, so I really wanted it to feel like the magic and the energy, just the whole vibe of whatever you are playing is kind of glowing," he said.
He also chose a hardtail string-through-body bridge and locking tuners for rock-solid stability that's officially been road-tested.
"I'm throwing this around on stage," he admitted. "I'm jumping around and playing and digging into it, and it just stays in tune, razor-sharp."
Throughout his career, Long has adorned his guitars with various slogans in neon paint that shines bright under ultraviolet lights. These mantras, many referencing his commitment to hard work and expression, have included, "The Pain Ain't Cheap," "Know Your Worth" and even, "I Failed My GSEs."
Likewise, Long hopes aspiring artists will add more creative flair to their own models.
"I think we all have a lot of things we want to say in day to day life that we just don't," he said. "Just say those things you want to say, and the way for me to do it is write on my guitar. Then I play in front of thousands of people, they see it, and it's open to interpretation. They can take something different from it, which is cool too because you'll never know why I've written a particular saying at that particular moment.
"Same as music. There's no definite answer — it's how you perceive it."
At first glance, Long put his signature San Dimas through the paces. Minutes after he started playing it, he actually wrote the riff for "No Defeat for the Brave" from While She Sleeps' latest album, Sleeps Society. And at the end of the day, he hopes the guitar of his dreams will similarly inspire anyone who picks it up.
"I created this hoping others would play it and write the best music they have ever written," he said. "I felt the community was missing a San Dimas in gloss black, and think this plugs that gap in a beautiful way.
"With Charvel, you know every feature and spec is the best possible quality, and I hope players around the world love this guitar as much as I do."
Watch Long talk more about his journey and the inspirations behind his signature Charvel below.