It's been a good year for Ratt guitarist Warren DeMartini.
He's back writing for his massive rock band with singer Stephen Pearcy – with a new album and tour due out this year, according to Pearcy's official Facebook page — and he recently recorded a song with Pearcy and Foo Fighters frontman Dave Grohl that should be finished soon.
The Grohl song was special.
The Foos recorded everything from their latest album in a lost form – analog – and that inspired Grohl to cull together a documentary in which DeMartini was featured, because he's used the same Sound City analog boards when recording for Ratt.  Nirvana, Nine Inch Nails and Slipknot have also recorded at Sound City.
Coming back to this setup with uber-producer Butch Vig was fun for DeMartini.
DeMartini recently sat down with Charvel.com to discuss his latest endeavors.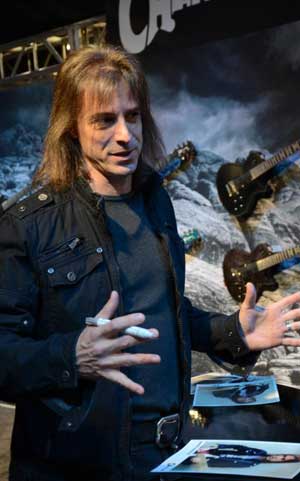 Charvel.com: How did you feel after recording with such an iconic setup?
DeMartini: "Ratt recorded out of the cellar at Sound City.  There was another studio, but a good portion was at Sound City.  Nirvana recorded there. A lot of bands did. It was very famous for its drum room, too.  When it closed, they had a list of people who wanted to preserve the mixing board. Dave went out and they gave it to him, and he built a studio of his own.
"They went around and did a film about the iconic stuff that was recorded at that desk, and it's amazing to wrap your head around everything that came out of there."
I heard you were writing new Ratt songs with Stephen Pearcy. When can we expect new material?
"I think it will be out in 2012.  We've been doing this a long time together (laughs).  I think we know each other pretty well."
Would you like to do another record all on analog?
"I would work on it again.  The trick is finding a producer who's in to working with analog.  You find that a lot of the new crowd is used to the immediate edit capabilities that can be had.  It's a new crop of people where, little by little, analog is known less and less."
What about with Butch Vig? 
"I hope that we work with Butch again. Based on that one track, it was such a great time.  He was great to work with. If he wanted to and had the time right now, it would be great."