Bleeding Through guitarist Dave Nassie is set to hold two Charvel guitar clinics in Washington at a pair of Ted Brown Music locations.
On Feb. 28, Nassie will be at the Richland, Wash., store, and he'll hit Tacoma, Wash., on March 1.
Nassie will introduce fans to the Charvel Desolation series with shredding in-store performances.  Nassie will also participate in Q&A sessions and meet with fans at each clinic.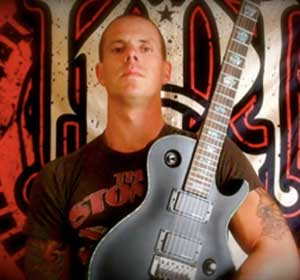 Nassie recently spoke with Guitar World about his desire to host Charvel clinics.
"I'm not one of those guitar players who are seeking out custom guitars. I don't want to abuse the privilege of being able to get free instruments," he told the music mag.  "All I really I want is to be able to go do my clinics and be able to teach — to be able to go to places like MI and have seminars and to have a company get behind me that has guitars that I just really like playing."
As for Bleeding Through, the band recently released its seventh studio album, The Great Fire.  For more information, visit Bleeding Through's official website.