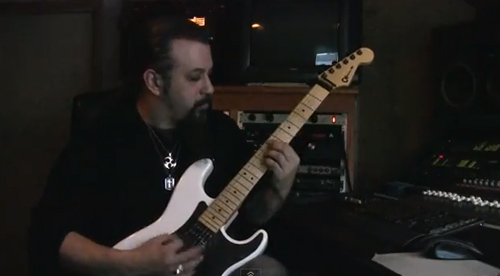 With their latest EP Covertá (due March 12), the members of Adrenaline Mob have covered eight of their favorite tracks, with offerings ranging from Heart to Dio.
The band — which features Russell Allen of Symphony X, Dream Theater's Mike Portnoy, John Moyer of Disturbed and Mike Orlando of Sonic Stomp — will also kick off a U.S. tour on March 12.
Leading up to Coverta's release, Adrenaline Mob dropped a video of the tracking of Van Halen's "Romeo Delight" that features a searing solo from Orlando.
"Recording 'Romeo Delight' was an absolute blast for me," Orlando told Guitar World. "I grew up listening to EVH, and from the moment I heard 'Eruption,' I was hooked for life! Tracking the guitars was such a blast, as I plugged in my white-and-black Charvel, my trusty ol' MXR Phase 90 and went right into my cranked-up Marshall JCM800, entering that EVH zone and giving my all to pay tribute to one of the greatest rock guitarists ever! We had a great time with Mike Portnoy's idea to insert a medley of kick-ass VH parts in the mid-section while going into a great treat before we head back to the final chorus!"
Check out the clip below, in addition to Orlando's thoughts on picking the classic Van Halen song.
The track listing for Covertá is as follows:
1. "High Wire," Badlands
2. "Stand Up and Shout," Dio
3. "Break on Through," The Doors
4. "Romeo Delight," Van Halen
5. "Barracuda," Heart
6. "Kill the King," Rainbow
7. "The Lemon Song," Led Zeppelin
8. "The Mob Rules," Black Sabbath
Visit Adrenaline Mob's Facebook page for more information.