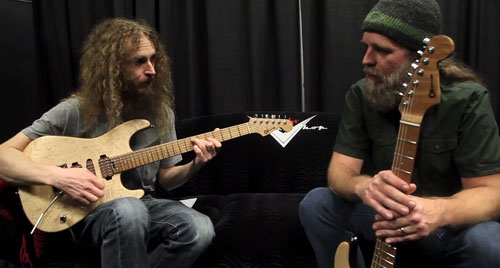 At the this year's NAMM Show, representatives from the Music Zoo got Guthrie Govan together with Charvel Master Builder Chip Ellis to talk about the Aristocrats axeman's new signature guitar.
The two discussed the unique aspects of the model, in addition to some of the challenges that they overcame to get to the final masterpiece.
In addition, Govan will appear at the Music Zoo in Roslyn, N.Y., on Feb. 23 at 6 p.m. to host a clinic and gear demo. The virtuoso guitarist will also participate in an interview moderated by Guitar World contributing editor and columnist Andy Aledort and a meet-and-greet with fans.
Watch Govan and Ellis' conversation after the jump and click here for tickets to the exciting event.