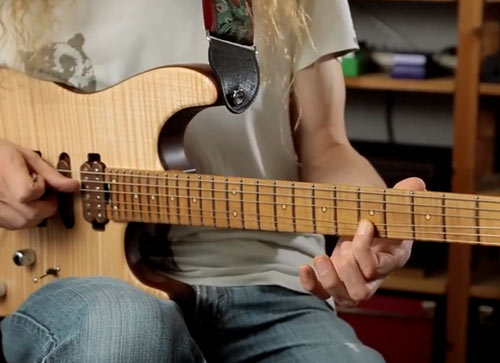 Earlier this month, we came across the first of a two-part master class Guthrie Govan filmed for Guitarist magazine that focused solely on string-bending within the framework of the minor pentatonic scale.
Guitarist has since posted the second edition of Govan's expert lesson, except this time, the Aristocrats guitarist dealt with the diatonic scale.
"The main difference with these scales – as opposed to the pentatonic scales – is that the bends are smaller. They hurt less," Govan said. "In some cases, it might place a different kind of demand on your ear in terms of trying to sound as in-tune as possible, but it's all achievable. There will be no bleeding fingertips this month, I solemnly assure you."
Of course, Govan led the class on one of his signature Charvel models, choosing a beauty with a flame maple top.
Watch the lesson after the jump and click here to pick up your copy of Guitarist.