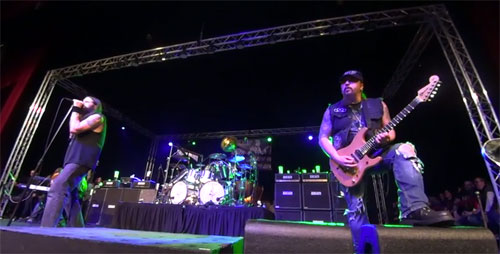 During the 2016 NAMM Show in Anaheim, Calif., several metal icons teamed up for the "Randy Rhoads Remembered" concert to honor one of the genre's most legendary guitarists.
Founded in 2013 by former Whitesnake drummer Brian Tichy and producer Joe Sutton, the event is aimed at recognizing the incredible contributions of the late Ozzy Osbourne guitarist, whose life was tragically cut short at the young age of 25.
Several artists collaborated on Osbourne's greatest hits, including "Crazy Train," "Little Dolls" and "Diary of a Madman." And for those who couldn't make it, fans have been sharing some of their footage, including the clip below featuring the fine talents of Adrenaline Mob's Mike Orlando.
Watch below as Orlando switches between his Charvel and an acoustic guitar for "Diary of a Madman."