With years of experience to draw upon and an endless wealth of creativity, Charvel Custom Shop Master Builder "Red" Dave Nichols went above and beyond for the NAMM 2018 Custom Shop event, bringing 8 one-of-a-kind masterpieces to the auction.
Go ahead and drool over all of the stunning, master-built guitars below. We sure did.
San Dimas® Style 1 HS White Angel Dust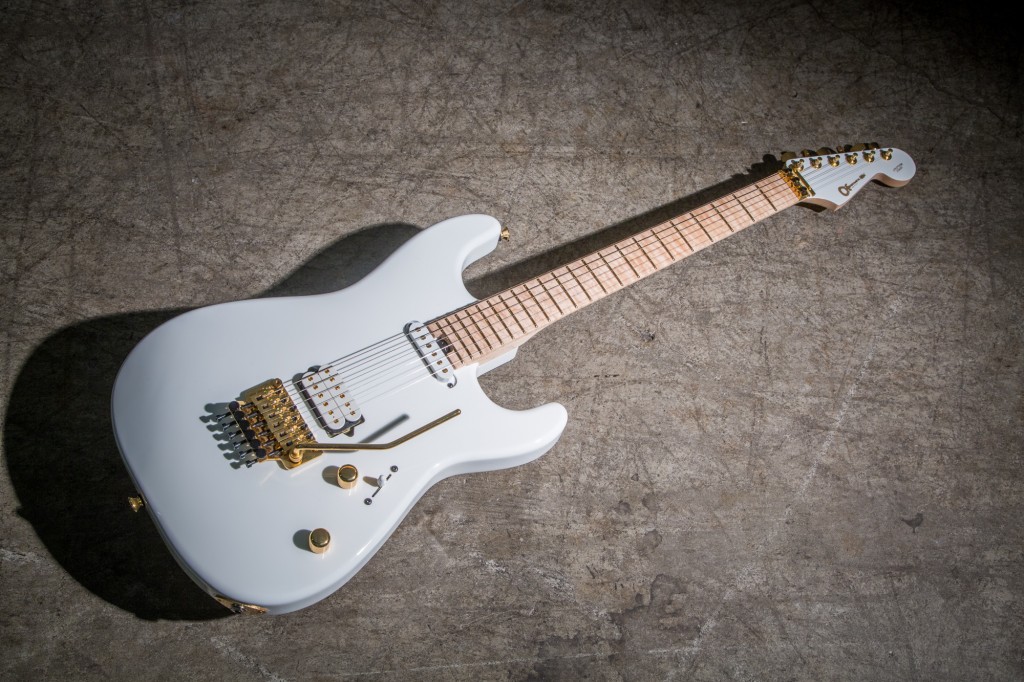 This San Dimas® Style 1 HS is clear as the driven snow with its immaculate White Angel Dust finished alder body. To fit with the exquisite theme, Red Dave threw a beautiful 12"-16" compound radius flame maple fingerboard with 22 frets on top of the quartersawn maple neck. This heavenly guitar is topped off with gold hardware, including a Floyd Rose™ Original tremolo bridge and Gotoh tuners, and white DiMarzio Super Distortion and Seymour Duncan Flat Start pickups.
San Dimas® Style 1 HSH FR M 3-Tone Sunburst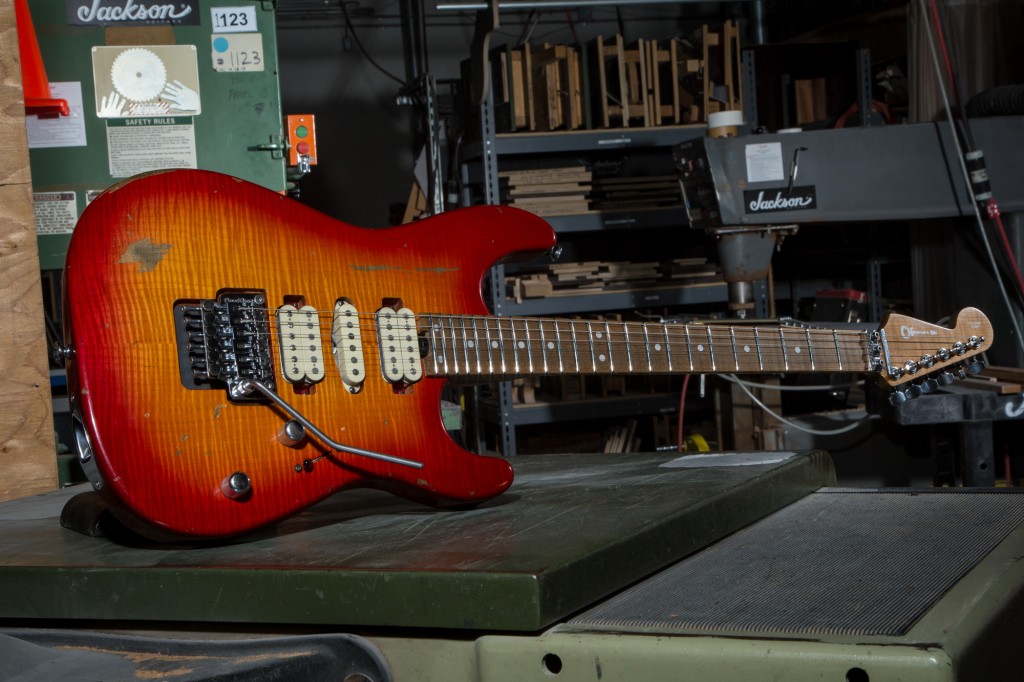 As bright as the morning sun, the San Dimas® Style 1 HSH FR M's 3-Tone Sunburst gradient brightens a cooked basswood body capped with a flame maple top. A light relic job and chrome hardware give this axe vintage style while the worn-in Charvel Custom pickups, Floyd Rose™ tremolo bridge, and 24 jumbo frets come together for a hard-rocking machine.
So-Cal Style 1 HSH FR M Daphne Blue Relic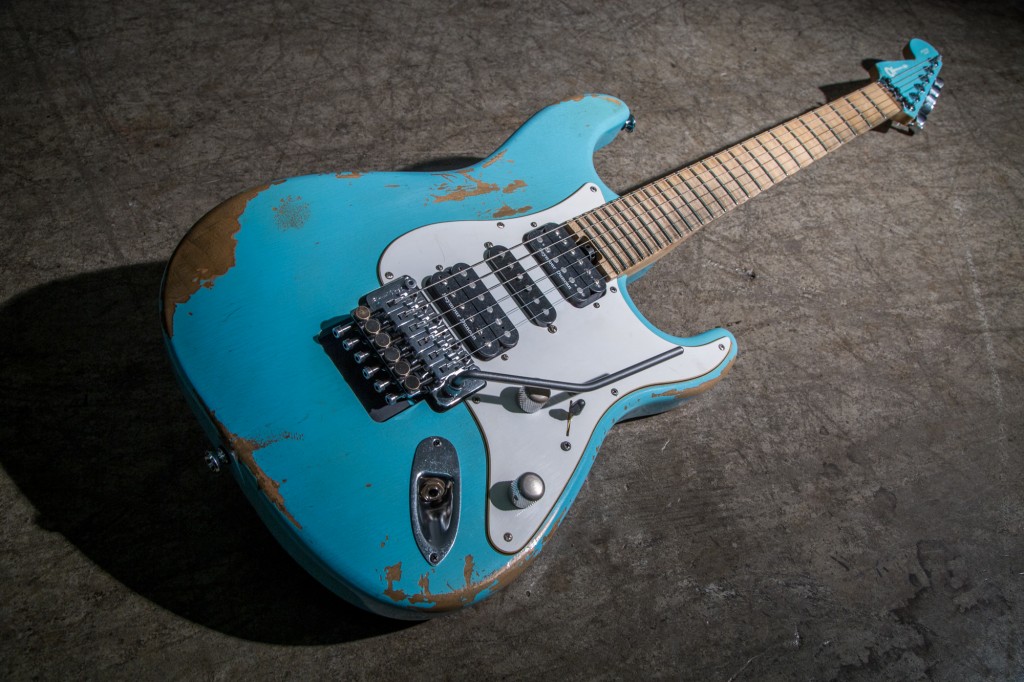 This righteous rig screams Southern California thanks to the ocean vibes stemming from its Daphne Blue finish. The heavy relic'ing reveals the So-Cal Style 1 HSH FR M's natural alder wood body, giving it an awesome vintage vibe. The bolt-on quartersawn maple neck's fingerboard is scalloped between the 22 jumbo frets for fast action and playability. Despite its chilled beach-vibe, this guitar rocks hard thanks to its HSH layout, which utilizes a pair of Seymour Duncan™ humbucking pickups and a RWRP Flat Strat single coil pickup in the middle position.
San Dimas® Style 1 HSH FR M Black and Green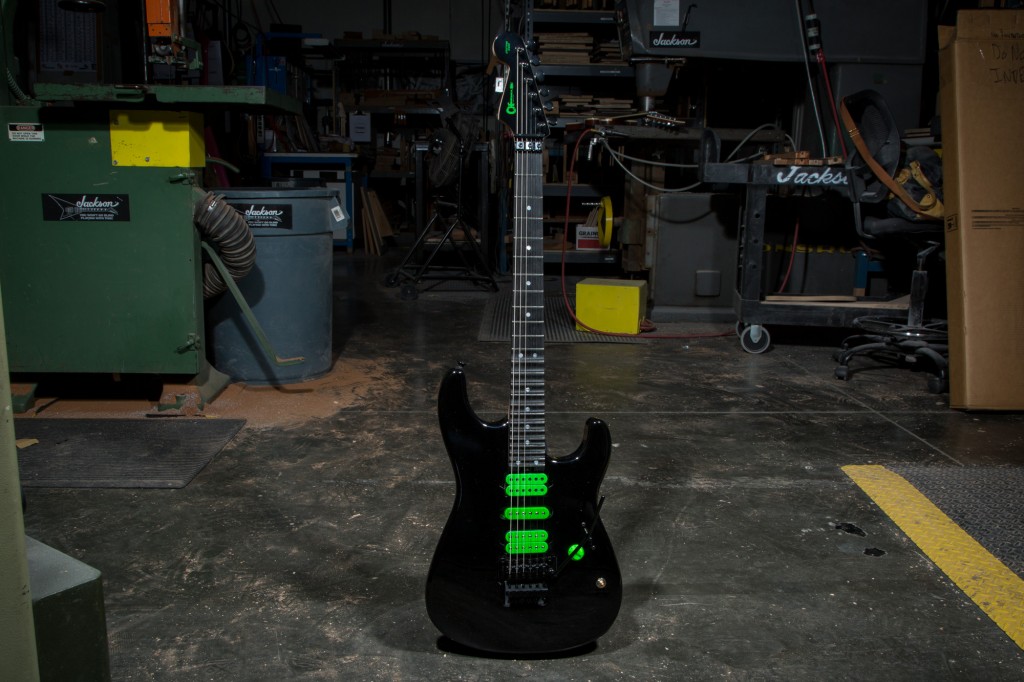 With its wild but understated Black and Green finish, the custom-built San Dimas® Style 1 HSH FR M is in your face without being obnoxious. The roasted quartersawn maple neck is topped with an ebony fingerboard, scrupulously hand-scalloped by Red Dave. Green DiMarzio Super Distortion pickups and an inverted headstock complete the "out there" ensemble.
San Dimas® Style 2 HT M QM Antique Burst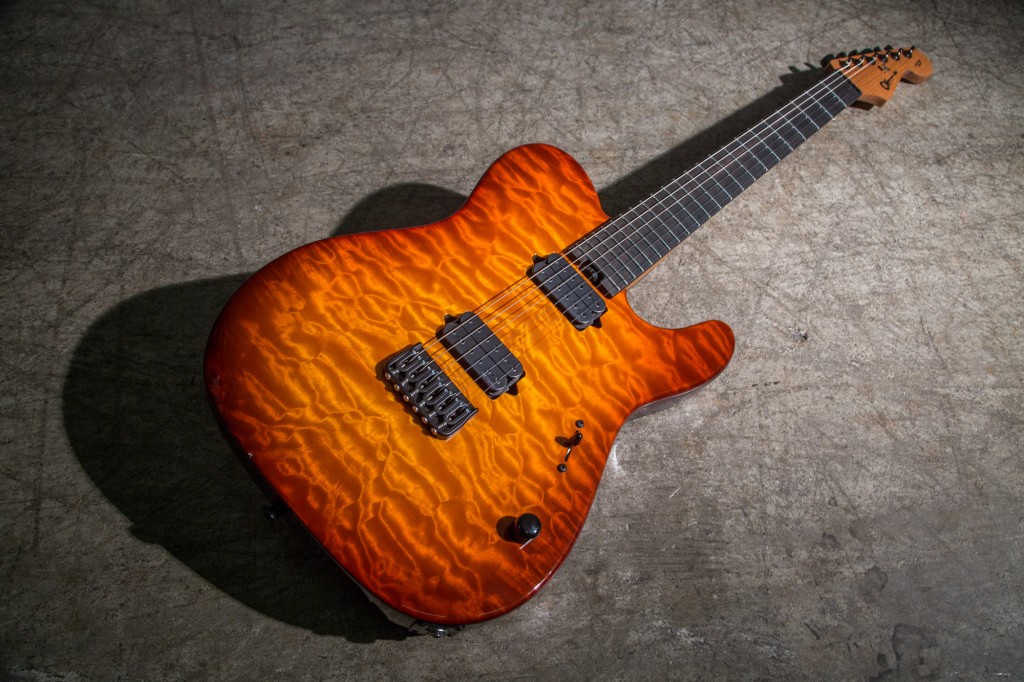 Style 2 fans will be stoked to see the San Dimas® Style 2 HT M QM custom shop build from Nichols. Like a fine piece of art, this single cut guitar's Antique Burst finish preserves the pristine quilt maple top that sits above its alder body. A roasted maple neck is met with a 12"-16" compound radius ebony fingerboard.  The solid playing machine is powered by dual DiMarzio D Activator humbucking pickups, and is finished off with a Hipshot hardtail bridge and Gotoh tuners.
San Dimas® Style 1 FR M HSH Relic Surf Green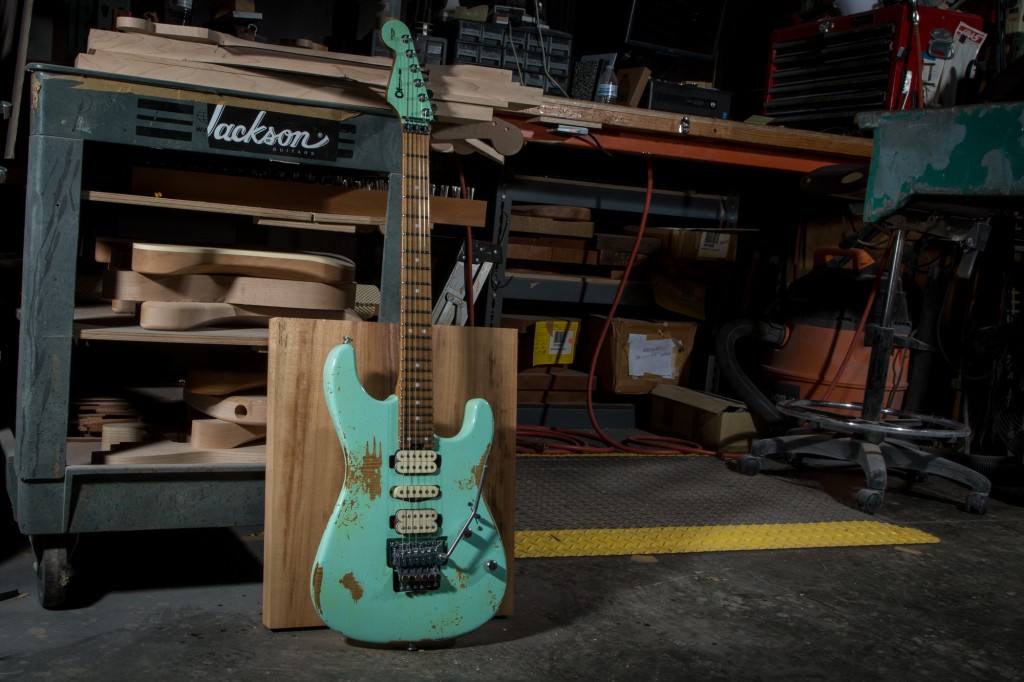 Nichols' San Dimas® Style 1 FR M HSH Relic looks like it was pulled from a beachside shipwreck. The cooked basswood body and flame maple top peeks through the Surf Green veneer courtesy of some expert Charvel Custom Shop relic'ing. A bolt-on roasted maple neck and reverse matching headstock take this incredible guitar to new levels.
San Dimas® DK HT M QM 1H Dark Trans Amber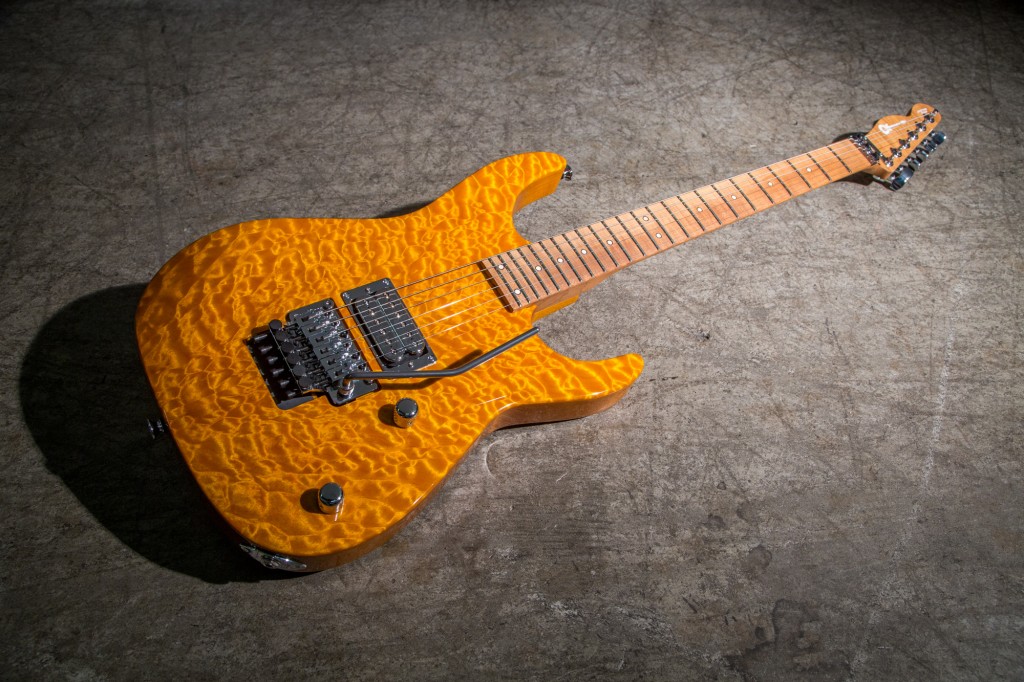 This gorgeous San Dimas® DK H FR M QM is the only Charvel custom guitar at this year's NAMM showcase to feature a single pickup design. A powerful DiMarzio® Super Distortion humbucking pickup lives within the alder body, topped with quilt maple. The Dark Trans Amber paint gives off a honey-like appearance that is matched nicely by a bolt-on maple neck and a 12"-16" compound radius roasted maple fingerboard that leads to an inverted Tele headstock. A Floyd Rose™ Original hardtail bridge, Gotoh tuners, EVH high friction 250K pot, and chrome pickup bobbins finish off the custom build in sleek style.
San Dimas® Style 1 HS Sustainer FR M Orange/Red Stripe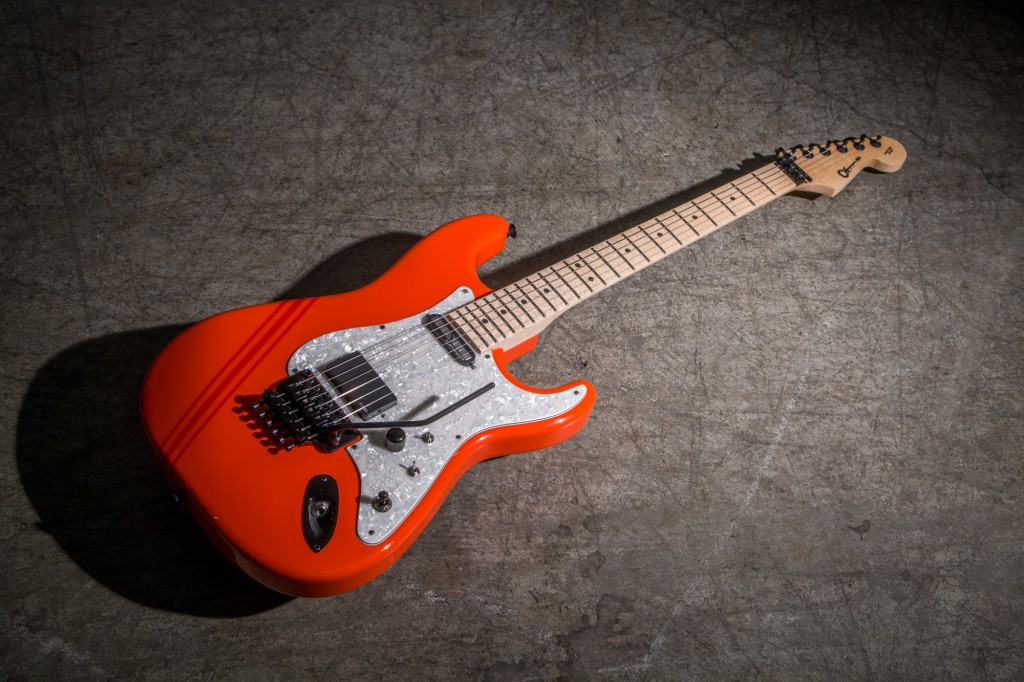 The speed-demon San Dimas® Style 1 HS FR M Sustainer is slashed by a slick looking Orange and Red racing stripe paint scheme. Matching its quick looks, the alder body is met with a bolt-on quartersawn maple neck with a 12"-16" compound radius maple fingerboard with 22 jumbo frets for fast fingering. For a truly unique sound, the custom build incorporates a Sustainer Driver neck pickup and an EMG 81 bridge pickup. Wow!