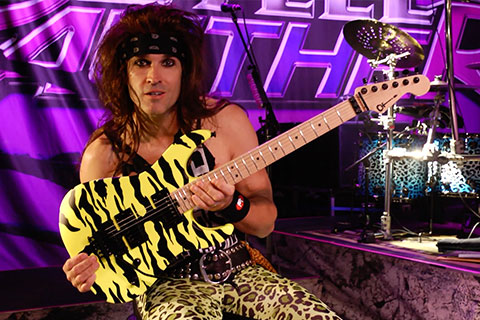 When Steel Panther axe man Satchel met up with Charvel for an exclusive video interview, he covered all things guitar including his early guitar roots, some of his favorite players growing up, and most importantly, how his new Charvel Signature Pro-Mod DK model came to be.
After an unsuccessful attempt at football, Satchel began playing guitar at the age of 10. Over the years, he found inspiration from a myriad of different guitarists and styles including David Gilmore and Buck Dharma. Satchel eventually landed at the Guitar Institute of Technology in Hollywood, where he connected with his glam rock Steel Panther bandmates.
For Satchel, Charvel was always number one. "In the '80s, Charvel was it," said Satchel. "All the cool guitar players were playing Charvel. It's always been a goal of mine to have a Charvel model at some point and I think I've achieved that."
That box has been checked in 2018 with the introduction of his brand new Satchel Signature Charvel Pro-Mod DK model. The axe is a bright burst of fluorescent yellow finished off with a striking Bengal pattern that is matched only by the rockers personality. With two Fishman® Fluence Classic pickups and a Floyd Rose® 1000 series tremolo, the guitar is built with metal in mind.
"Fishman® pickups are the best pickups on the market as far as I'm concerned," said Satchel. "They sound heavy metal. You can probably plug it in to your grandmother's refrigerator and just turn the refrigerator up to 10, and it would sound like a modded Eddie Van Halen on Van Halen 1."
Want more details about his new sig axe? Watch the full interview by hitting play on the video below.