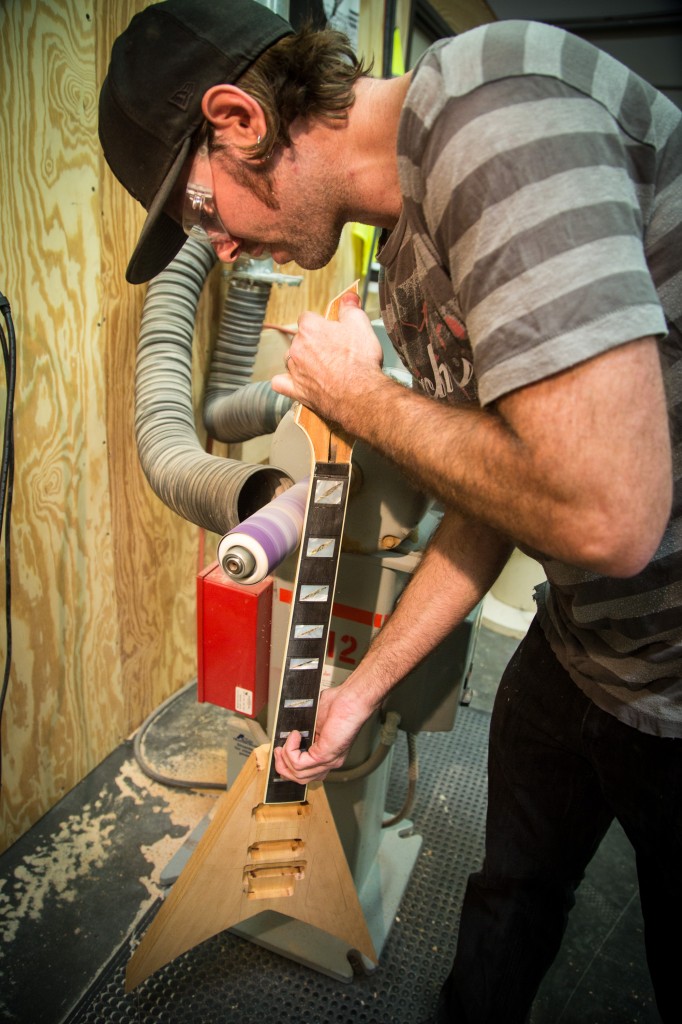 Jackson and Charvel are excited to share the news that Joe Williams has been promoted from an apprentice to Custom Shop Master Builder.
"Given his diverse talents as a builder, outstanding work ethic and enthusiasm, Joe Williams is an invaluable asset to the Custom Shop," said Jackson/Charvel Vice President of Category Management Jon Romanowski. "As a player and true fan of hard rock and heavy metal himself, Williams also brings a unique perspective and key insight into the exacting needs of modern guitarists. We couldn't be happier to have his firepower in the shop as we continue to build upon our storied Jackson and Charvel brands."
Williams has trained over the last decade under the expert wing of Master Builder Mike Shannon, earning the prestigious guru's full endorsement and stamp of approval.
"Joe is probably one of the most valuable people in the building, one of very few people who can do every process — from the mill all the way to final assembly and figuring out some of the most difficult wiring issues that we have," said Shannon.
Williams has contributed to many high-profile Custom Shop projects, including management of the relic process, assembly and setup for the Randy Rhoads Tribute Concorde Replica models, and initial conception and design of the B7 and B8 models.
He also built the first Jackson "multi-scale" instrument. In what he good-naturedly referred to as "a beast of a build," he created an eight-string Soloist model with an innovative 27.75"-25" scale length and asymmetrical five-piece neck.
Williams' passion for tinkering with guitars dates back to his teens when he first started out playing the instrument. Assuming it was only a phase, his parents got him an inexpensive Squier® beginner instrument. An enterprising teen, Williams quickly taught himself to modify and improve his $100 guitar to sound and feel like his friend's high-performance Charvel.
He later leveraged those skills with a paying gig at a vintage guitar shop, where he repaired and set up used guitars. Upon joining Jackson in 2005, he continued developing his skills in final assembly, handling wiring and setup work. His attention to detail caught Shannon's, and Williams was subsequently given sole responsibility for custom assembly work.
During the last 10 years, Williams attended school to learn CNC programming and Manufacturing Technology, while also training aside Shannon in the Custom Shop, slowly working his way backward through the production process—from final assembly to buffing and polishing to mill work.
"Working as Mike Shannon's apprentice for nearly a decade has pushed my skills to a level I didn't know they could reach," said Williams. "When I started in Jackson, Mike opened my eyes to a lot of things in the overall aspect of the guitars we make. I was a savvy tech and assembler, but Mike didn't hesitate to challenge me for the better. Matching the quality and craftsmanship of someone with over 30 years of experience and immense talents is a challenge. In addition to learning to make an instrument to his standards, I've also been able to apply my insight as a player.
"The road to the position of Master Builder has been long but rewarding, and I'm both honored and humbled," he continued. "The path doesn't end here though. I look forward to carrying on the tradition of what has made Jackson and Charvel great — pushing the limits of quality, innovation and playability."
Contact a global authorized Jackson/Charvel Custom Shop dealer today to get in line for an early work from this rising star.