Charvel is amped to add a variety of new axes  — from brand-new USA Select and artist signature models to even more bright and bold new finishes for our core Pro-Mod Series.  Here's a quick intro of the 11 new guitars we have in store for you.
A brand-new offering from our Corona, Calif.-based factory, the USA Select DK24 HH 2PT CM packs classic Charvel style and attitude with premium features. The bolt-on two-piece caramelized maple neck and fingerboard take it up a notch in tone and style, while direct mount custom Seymour Duncan bridge and neck pickups deliver in-your-face tone performance after performance.  Throw in a mini two-way toggle switch for parallel and series pickup combinations, volume knob with 500K EVH Bourns low-friction pot, black Strat-style skirt knobs, Gotoh Custom 510 recessed trem bridge with titanium saddles and thick brass block, and well, consider yourself unstoppable.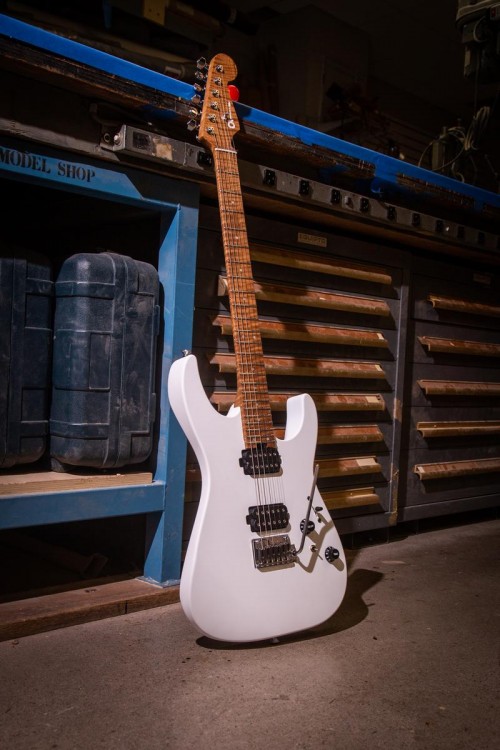 Looking for flash? The Oxblood finish is sure to scream for attention, while the Satin White might call more to those looking for an understated and classic vibe.
Angel Vivaldi Signature DK24-7 NOVA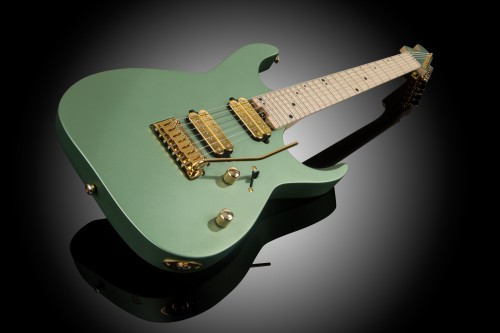 Elegance and power collide in the brand-spanking new Angel Vivaldi Signature DK24-7 NOVA, available in an arresting Satin Sage Green with a matching reverse Fender® Stratocaster® headstock and gold hardware. This magnificent 7-string axe features a bolt-on three-piece maple neck with a profile designed to Vivaldi's preferred specifications, while the maple fingerboard's cascading black dot inlays add a sophisticated and unique touch. Under the hood, a DiMarzio Tone Zone bridge pickup and a DiMarzio Air Norton neck pickup add plenty of snappy warm tones.
Metal's favorite jester Russ "Satchel" Parrish gets a new color addition to his wildly popular signature model. Now available in a vibrant Slime Green Bengal finish, the Satchel Pro-Mod DK features a pair of Fishman® Fluence Classic humbucking pickups for that iconic '80s metal tone.  Nothing is understated when it comes to Steel Panther and that includes the pickup bobbins, which are decked out in black and green. Grab the spandex, eyeliner, hairspray and set the room ablaze.
Pro-Mod So-Cal Style 1 HH FR E Deep Purple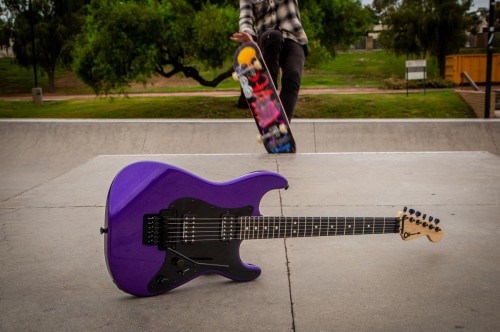 Our So-Cal Style 1 got dipped in a new royal Deep Purple Metallic finish and paired with a black pickguard and black hardware for a look that's ready for the bigtime. Its alder body lends itself to a wider scope of tones, while the ebony fingerboard delivers tremendous percussive notes. Ideal for metal of any flavor, Seymour Duncan Distortion pickups fuel this axe with an annihilating and heavy voice.
Pro-Mod So-Cal Style 1 HH FR E Gloss Black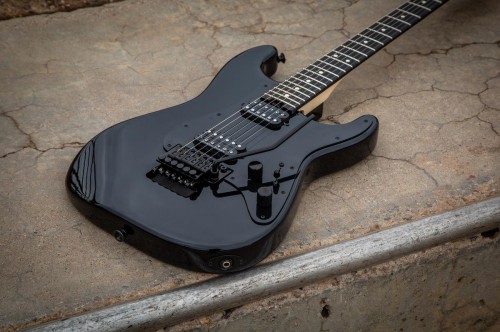 Purple not your jam? Our So-Cal also sees a new Gloss Black finish with black pickguard and black hardware for those with a more brooding personality and/or those ladies out there who are always in need of the "perfect black dress axe." Also offering a set of Seymour Duncan Distortion pickups, this guitar produces full-bodied, powerful mids that are ideal for scorching leads. A premium feature option on all of our FR Pro-Mods, the Floyd Rose 1000 Series double-locking tremolo bridge system will keep you in tune regardless of your whammy-histrionics.
Pro-Mod So-Cal Style 1 HH FR M Snow White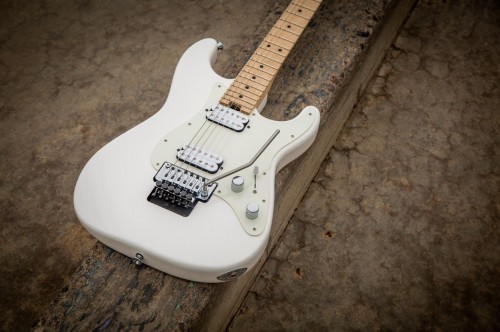 Already a popular color in the lineup, our So-Cal Style 1 in Snow White now gets a refreshing new option with a parchment pickguard and chrome hardware. This axe features a 12"-16" compound radius maple fingerboard with black dot inlays.
Pro-Mod So-Cal Style 1 HH FR M LH Snow White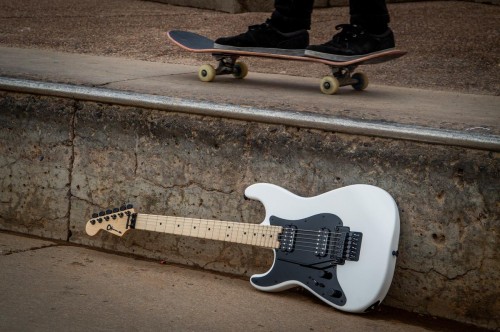 Left-handed? You're covered. This Snow White with black pickguard So-Cal Style 1 HH FR M LH model packs many of the Charvel chutzpah of its right-handed counterparts. Same Seymour Duncan Distortion pickups, same smooth 12"-16" compound radius maple fingerboard and same kickass Floyd Rose 1000 Series trem. Main difference besides its orientation? Instead of offering a no-load tone control, the lefty version features a tone control with push/pull tone activation.
Pro-Mod San Dimas® Style 1 HH FR E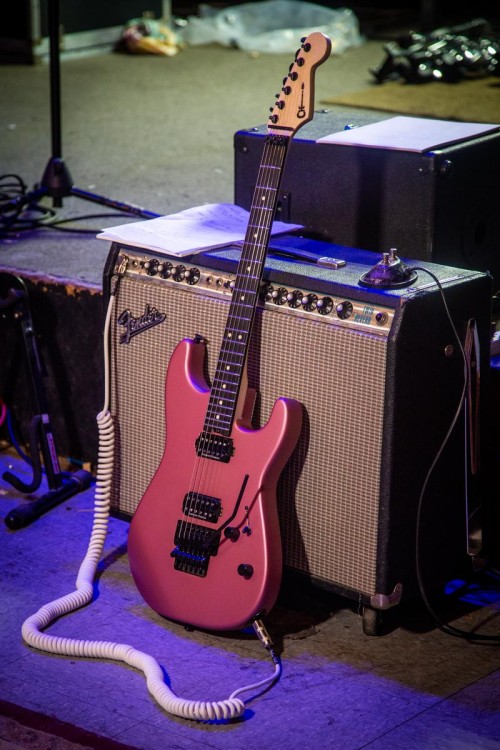 This San Dimas® Style 1 is in full bloom with a stunning Satin Burgundy Mist finish. Don't let its rosy complexion fool you — courtesy the direct mount Seymour Duncan® JB TB-4 bridge and Seymour Duncan '59 SH-1N neck pickups, this bad boy is ready to rip into any heavy, aggressive playing style with plenty of output and sustain. When the occasion calls for it, these pickups can also shift into warmer, sweet tones.
Pro-Mod San Dimas® Style 1 HH FR E Deep Purple Metallic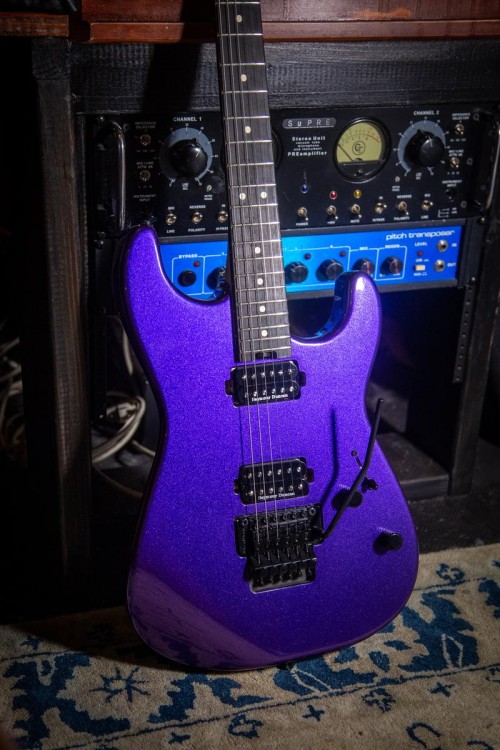 The San Dimas Style 1 HH FR E is also offered in a bold and edgy new Deep Purple Metallic finish that complements its ebony fingerboard and black hardware beautifully.
Pro-Mod San Dimas® Style 1 HH FR M QM Transparent Green Burst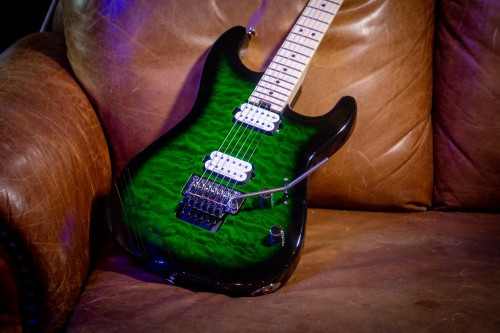 Looking for a touch of elegance instead? The San Dimas® Style 1 HH FR M QM sports a stunning quilt maple top finished in Transparent Green Burst.  White pickup bobbins add another dimension to its classic looks, along with the durable maple fingerboard and chrome hardware.