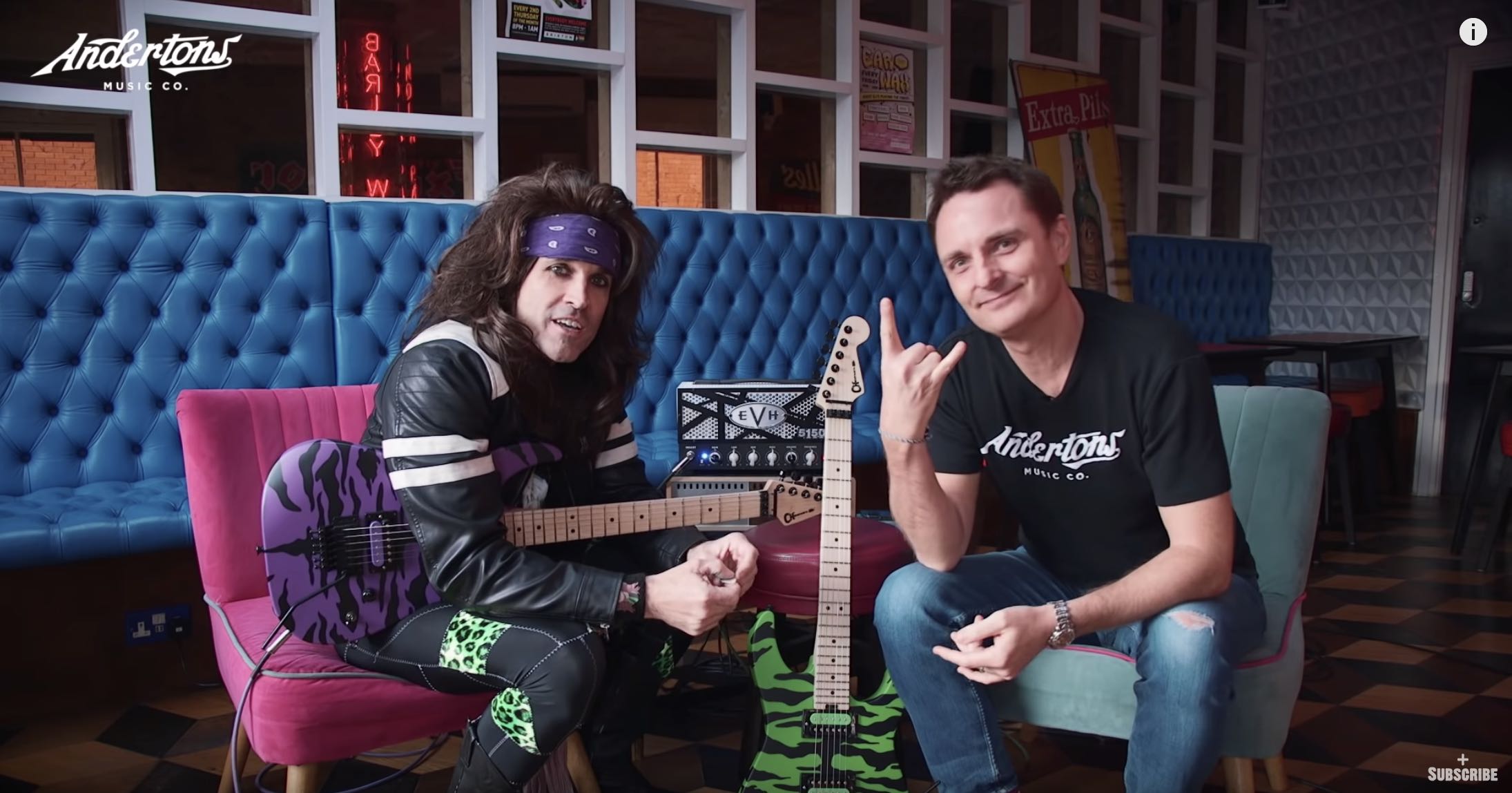 Steel Panther guitarist Satchel hung out with Lee "The Captain" Anderton for an episode of The Captain Meets…, in which the heavy metal resident jokester dished on the bells and whistles of his newest Charvel Satchel Signature Pro-Mod DK.
"They're all awesome but different flavors of awesomeness," said Satchel of his signature Charvel Pro-Mod DK models.
Among the many features that make his guitar "the best-sounding and best-playing rock guitar out there," the top-mount Floyd Rose® 1000 Series double-locking trem system is one of Satchel's faves.
"To me, there are a few things in life that are perfect the minute they were invented," he said. "And a Floyd Rose is one of those things. Remember back in the day there were Kahler guys and Floyd Rose guys? I didn't understand the Kahler guys because Floyd Rose nailed it from the beginning. It stays perfectly in tune… you can wank all day with it."
Satchel's famed tiger-striped finish now comes in a Satin Purple Bengal paint job.
"Every Charvel Satchel model has a little bit of my own blood mixed in with the paint," quipped Satchel. "It's not a lot. You wouldn't be able to get Hep C from it."
Aside from talking shop on his new axe, Satchel also touched on which icons he'd want to have dinner with. Who would have ever guessed that Thomas Jefferson would be on that list?
"Thomas Jefferson, C.C. Deville, Jimmy Page and Jimi Hendrix at the same table," said Satchel. "And I'm just there videotaping because you don't want to forget that shit."
Watch Satchel and Anderton in the full The Captain Meets… episode below and catch Steel Panther on tour in support of latest record Heavy Metal Rules here.