After releasing a self-titled EP last August, Adrenaline Mob has their debut full-length scheduled to drop on March 13.
Titled Omertá, the album will be released by the newly formed Elm City Music in conjunction with EMI Label Services.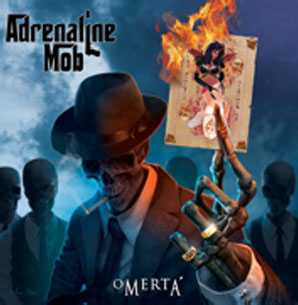 With Mike Orlando shredding his guitar, Russell Allen (Symphony X) handling vocals and Mike Portnoy (ex-Dream Theater) destroying the drums, Omertá contains 11 tracks, including fan favorites "Psychosane," "Believe Me" and "Down To The Floor."
There is also a blistering interpretation of Duran Duran's classic "Come Undone" that features guest vocals by Lzzy Hale of Halestorm.
The supergroup will be heading out on tour this spring in support of the album, but no dates have officially been announced.
For more information, visit Adrenaline Mob's official website.
Track listing for Omertá:
01. 'Undaunted'
02. 'Psychosane'
03. 'Indifferent'
04. 'All on the Line'
05. 'Hit the Wall'
06. 'Feelin' Me'
07. 'Come Undone' (Ft. Lzzy Hale)
08. 'Believe Me'
09. 'Down to the Floor'
10. 'Angel Sky'
11. 'Freight Train'