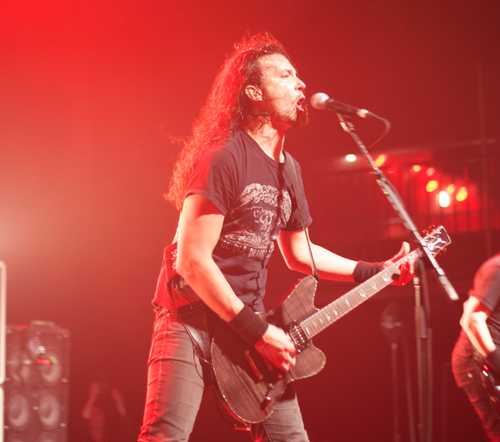 By the conclusion of Gojira's epic set at Los Angeles' Fonda Theatre, the French metallers offered up another example as to why they should be included in the conversation of the world's heaviest bands.
On the heels of their strong 2012 album is L'Enfant Sauvage, Gojira played a set that drew from their entire catalog and had the pit going full-blast.
A sold out crowd greeted the band when the guys walked out on stage one by one. Frontman Joe Duplantier houted "Are you alive!?"  That question elicited a throaty roar over the feedback coming from the band's huge amp stacks.
And with that, Gojira tore into "Explosia" and the center of the Fonda was reduced to a swirling pit of humanity.  Duplantier and guitarist Christian Andreu assaulted their axes with soaring riffs, while bassist Jean-Michel Labadie laid a solid foundation.
Their second offering, "Flying Whales," starts ominously with mysterious notes coming from the guitars, but once the tempo is kicked up about halfway through, it puts a spotlight at drummer Mario Duplantier's technical skill.  His staccato double bass drum became a constant one-two punch to the chest for the first few rows of fans.
Later, Gojira played the destructive "Backbone" and "The Heaviest Matter of the Universe," which along with "Flying Whales," completed a trilogy of tracks from their 2006 gem From Mars to Sirius.
"Oroborus," "Toxic Garbage Island" and "The Art of Dying" also peppered a few songs from 2008's The Way of All Flesh.
Mario Duplantier got to further showcase his kit with an assaulting drum solo, and the brothers even switched roles for a song with respectable results.
While Gojira did take a short break after closing with "Vacuity," the night was not yet over.  A crushing encore of "The Gift of Guilt" maintained the brutal nature of Gojira's set.
It didn't matter if fans were in the pit or in the back, the mighty Gojira surely left everyone seeing double. And in case there was any chance of something getting lost in translation, Joe Duplantier offered a quick French lesson:  "It doesn't matter if you mean 'yes' or 'fuck yeah!' Say 'Oui!'"
For more information, visit Gojira's official website.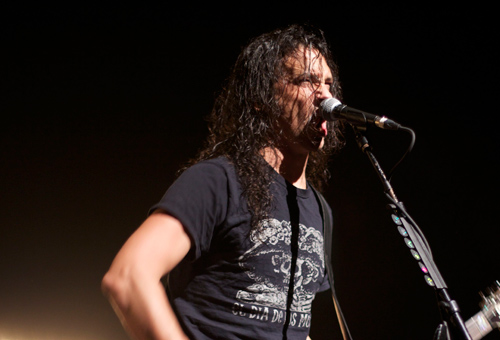 Setlist
 "Explosia"
"Flying Whales"
"Backbone"
"The Heaviest Matter of the Universe"
"L'Enfant Sauvage"
"The Art of Dying"
"Toxic Garbage Island"
"Wisdom Comes"
"Oroborus"
"Drum Solo"
"The Axe"
"Vacuity"
Encore
"The Gift of Guilt"