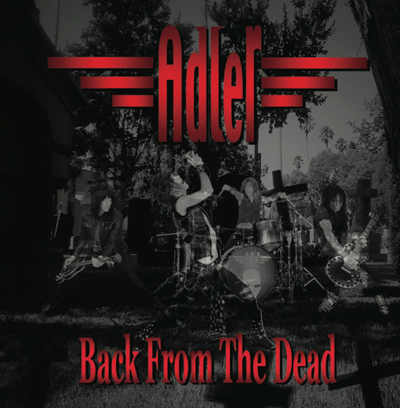 The official lyric video for Adler's "Good to Be Bad" is now available.
"Good to Be Bad" comes off the band's debut album Back From the Dead and features a cameo by guitar virtuoso John 5.
Check out the video below.
Adler frontman Jacob Bunton and guitarist Lonny Paul recently sat down with Guitar World to discuss Back From the Dead.
Produced by Jeff Pilson (Foreigner, Dokken), the record also features a guest spot by drummer Stephen Adler's former Guns N' Roses bandmate Slash.
Bunton said the band stuck to their promise of being honest with each other.
"We had each other to lean on and push each other. It was one of the first things we agreed on," Bunton told interviewer James Wood.  "The very first day that we met in my hotel room, we decided not to spare anyone's feelings. Even if one of us wrote what we felt was the greatest song ever, we had to be open for changes and it really worked out."
The album's lead single, "The One That You Hated," was the first song Bunton and Paul ever wrote together.
"That was the first song that we ever wrote together sitting in the same room," said Bunton.  "We were sitting in Lonny's house and I said, "I've got the start of this song. I think it's pretty cool, but I don't have a chorus." So I started playing the riff and first verse. When I got to the chorus (and before I could even tell Lonny that this was where it went) he just immediately jumped in and sang: "I'm The One That You Hated" [laughs]. After that, it was literally 20 minutes and the song was done."
Read the full interview here and visit Adler's official Facebook page for more information.