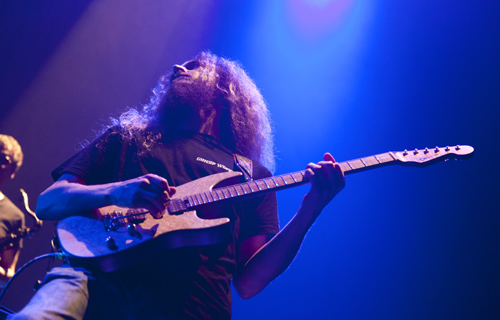 An eerie moon with two eyes and mouth agape provided the pre-set backdrop for Steven Wilson's show Friday night at Los Angeles' Club Nokia, just before whispers were projected in over the speakers to create a stir within the capacity crowd.
As Wilson took the stage with his on-point collective consisting of guitarist Guthrie Govan, woodwind player Theo Travis, keyboardist Adam Holzman, bassist Nick Beggs and local drummer Chad Wackerman, there was a palpable sense of excitement and almost uncertainty as to what was to come.
You see, Wilson isn't really known for creating tight four-minute tracks that are radio-ready.  Instead, the Porcupine Tree frontman is known for his epic opuses, whether it is with his typical band or as a solo artist.
In fact, his latest album, the critically-acclaimed The Raven That Refused to Sing (And Other Stories), is comprised of six tracks that clock in with over 50 minutes of material.  Friday's performance pulled from several of those compositions to the delight of the rapt audience.
Wilson, who carries the progressive rock banner for such acts like Yes, Genesis and King Crimson, perfectly commanded his band while regularly switching between acoustic and electric guitars, bass and keys.
And it's amazing that they all can recreate the complicated sounds of The Raven live.  Early on, Wilson brought out "Luminol" from the album, drawing on Beggs' ominous bass thumps and a furious solo from Guthrie – who was playing a prototype of his custom Charvel guitar – while scenes of city life played on a screen behind him.
The crowd was taken on a 360-degree experience when sounds of cars moving and idle sidewalk chatter was played from speakers set up near the back of the club.  With "Luminol" clocking in at over 12 minutes, the vibe went from metal to jazzy with a few quick key changes.
Because there were several rows of chairs planted on the floor level, Wilson noted that he didn't want everyone to go all "L.A. on [him]" and launched into "Drive Home," in which Govan was "required to get into character" as a man running from the trauma of his dead wife passing away in a grisly car accident.
While that might not be the easiest thing to convey via guitar, Govan's sweeps up and down the fretboard conjured up the spirit of the deceased partner and painted a bleak picture of desperation.
Later, a curtain was brought down in front of the band, upon which the lights cast shadows of each member as they played "The Watchmaker."  The track was set up with ghoulish ticks of a clock from all areas of the room, causing many to look around with anxious anticipation as to what was to come.
Wilson began with a slow build on his acoustic guitar before the bass kicked in, allowing for a flute interlude and Govan's blistering solo that coincided with sharp auto-tuned harmonies.
The metal-sounding end of the song brought everything back to the theme, a recounting of a man "who killed his wife of 50 years and buried her under the floorboards" of his workshop.
While there was an encore of a solo tune – "On the Sunday of Life" – the real highlight was Wilson's closer, the title track of his current album.
An animation of an old man walking towards his forest cabin with constant visions of his dead sister manifested in a raven served as a triumphant end to his sense-assaulting performance.
With several fans in attendance swaying back and forth to the jarring musical transitions, "The Raven That Refused To Sing" delved deep into the emotional core of Wilson's performance.
And perhaps performance isn't really the best word to describe a Steven Wilson concert.  Friday's appearance could be more-aptly described as art.