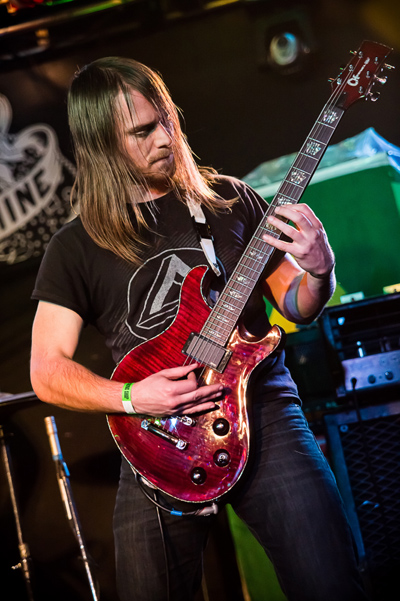 Currently in the middle of their own headlining tour in Europe, Cleveland metalcore band Affiance is mere weeks away from the biggest tour of their career, as the group is set to hit the road with metal heavyweights Killswitch Engage and Miss May I this summer.
While there is certainly a lot of traveling on the docket, the chance to play tracks off their latest album The Campaign – and to be able to do it with their upcoming tourmates – marks an exciting time.
Charvel.com recently caught up with Affiance guitarist Brett Wondrak to talk about what lies ahead for the band.
Charvel.com: How did Affiance join up with Killswitch Engage for this tour?
Brett Wondrak: It took a lot of time and effort.  Our singer is also our manager, and as soon as he got wind of the tour, he immediately started hitting people up – even so far as to emailing [Killswitch Engage guitarist] Mike D – to get the opportunity to do it.  It came down to us and a few other bands, and we lucked out, I guess.  It's a huge opportunity, and really, I don't think any of us can really fathom it.  We're excited.
Charvel.com: Would you consider this the biggest tour you've been on?
BW: Easily [laughs].  We would have been excited to go on tour just with Miss May I.  It's all a big step for us.  A bunch of our heroes are on that tour.  We're going to really enjoy watching those sets every night.
Charvel.com: With Miss May I being from Ohio, what is the hardcore scene like in your home state?
BW: To be honest, it's a little spotty.  Dayton is good, but Cleveland was dead for a long time.  We've been around for a good seven years, so we kind of saw why it died, and it's recently been reborn.  Columbus is stepping up their game.  It's a roller coaster ride, but I think it's that way with any city.  A lot of metal bands have come from Ohio within the last seven or eight years.  I don't know what it is.  There must be something in the water.
Charvel.com: What was the process like putting together The Campaign?
BW: There were actually about three years between the writing of No Secrets Revealed and the release of The Campaign, so we had a lot of time to grow.  We really wrote a lot of songs within a year of its actual release.  We wanted that time to grow, as guitarists and Dennis as a singer.  I think that ended up showing a little bit, and that might be why the musical difference is pretty vast between the two [albums].
Charvel.com: Will you be playing the new songs on tour?
BW: It's pretty much all going to be from The Campaign.  The reaction so far has been positive.  There are those people who will always say "Call to the Warrior" is their favorite song of ours.  I think that's partly nostalgia, as in that's how they got into us.  But it's been good seeing people like the new stuff.
Charvel.com: The video for the new single "Kings of Deceit" has some pretty political imagery.  What is behind that?
BW: We're very centered around politics.  We're not trying to push anybody in one direction.  We don't want to say, "Hate this guy, vote for this guy."  It's more about paying attention and asking questions, and that's what "Kings of Deceit" is all about;  not turning a blind eye to what's going on.  Don't be afraid to ask questions.  Don't be afraid of seeking truth.  I do think that if you do seek [truth], you'll find it, and it might not be what you expected.
Charvel.com: When did you start playing guitar? 
BW: Actually, like when I was 20 or 21.  I started late – one of the few.  I've always felt like I had a lot of catching up to do, and it's weird being on tour with a bunch of kids who are making way better money than me [laughs].  But I've always loved music, so I picked it up and worked hard at it.  I feel like I'm fairly competent now [laughs].
Charvel.com: Who were some of the bands that served as inspiration for you during those early days?
BW: There's one band called Project 86. They were kind of big in the Christian scene, and I'd say they were post-hardcore.  Maybe not metal, but they were heavy.  I was really into them lyrically and musically, just very expressive and different.  They were what drove me to want to start writing songs and playing guitar.
Charvel.com: What gear are you using now? 
BW: I've got a [Charvel] Soloist with a Floyd Rose and also a double cutaway.  I got the double cutaway first.  It's extremely comfortable and has a really thin neck, so it's really easy to do quick fills.  It's also white, so it's really stage-worthy.  It's one of the few guitars I've had where I could just pick it up and play and be 100 percent happy with it.
For more information and tour dates, visit Affiance's official Facebook page.