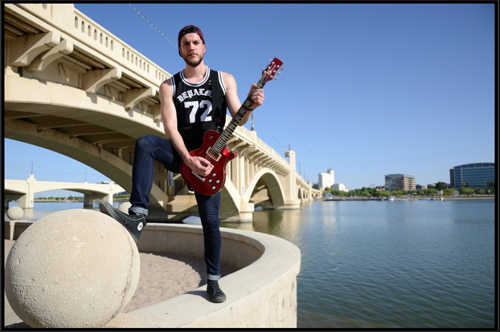 U.K. alternative rockers Young Guns have been riding the high of their commercially- and critically-acclaimed sophomore album Bones.
Guitarist John Taylor has been with the band since 2007, providing searing fretwork for Young Guns' hard rocking, dual-axe attack.
Charvel.com recently caught up with Young, who just finished the band's fourth U.S. tour, to talk about where this quintet has been and where it's going.
Check out what he had to say after the jump.
Charvel.com:  How did the North American crowds respond to you guys after your most recent tour?
It was amazing.  It was definitely the biggest bunch of shows we've done over there, and in between the tour dates, we had some festival dates.  Basically, they were the biggest U.S. crowds we've ever played to.  I can't believe how people are responding to "Bones." That's the first single over there, so hopefully that response will continue with the remaining singles that come out, too.
Charvel.com:  You've got some festival dates coming up, with a main stage show at the Download Festival.  How do you handle that?
Taylor: We're also doing Isle of Wight.  Those are two of the biggest ones.  Weirdly, this is going to be the fourth time playing Download, and we've just worked our way up from the smallest stage to the biggest.  We're going to be on the main stage this year, which is going to be cool.
I can wrap my head around it now, but it's still really cool to see all the other bands that are on the lineup.  There are so many bands we've never played with before, like Iron Maiden.  That's just insane.  You never get used to that, I guess.
Charvel.com: How did you guys come together as a band?
It's quite convoluted, but long story short, we all kind of grew up together in the same music scene.  We all played in different bands on the scene and eventually came together.  I met Gus in London when I moved there to go to sound engineering school.  We basically spent all our student loans on alcohol and never went back to school.  We've been in a band ever since.
Charvel.com: How do you work with Fraser Taylor and figure out your two-guitar attack during the writing process?
Taylor:  It's something we don't really think too much about.  We've kind of fallen into our roles, and the majority of the chord structure I'll do.  And then Fraser has this thing where he can pull a magic lead out of the air, and then it's like, "Well, that's sorted now."  I leave that up to him, and he leaves the chords up to me, and we settle in.
It's not very rigid.  You play live what you've written.  It's as simple as that.
Charvel.com:  What gear have you been using live lately?
Taylor:  I use the Charvel Pro Stock DS-1 with the matching pickups and paintjob.  They look fucking beautiful.  I've always liked single-cutaway guitars – that Les Paul shape.  The only problem I've always had with them is that massive heel.  I could never use all 24 frets, so that's why I love these new Charvel guitars.  They've got that contour heel, so you can really get up there.  I also love the way the neck is unfinished.  On all my old guitars, I used to sand the varnish and paint off, so you'd have an unfinished neck anyway.  That worked for me.
Also, they sound equally great clean and driven.  Like, if I'm just playing some E power chords or four-string chords, you can hear every single string.  The pickups are great.  I just like how pristine it sounds.  You can hear every nuance in every string.
Charvel.com:  How long have you been playing?
Taylor:  Actually, I had my first guitar lesson when I was 7 years old.  I got taught by a blind lady who lived down the street, and she would teach me songs like, "What Do You Do With a Drunken Sailor."  I gave up on that for a little bit, but she was so good.  So much better than I am, and she didn't have any sight.  Anyway, I didn't pick it up again until I was 12, and I've been at it since then.  I should be a little better than I am, but…
Charvel.com:  Who were some of the guitarists you looked up to?
Taylor: I'd probably say the biggest shredder dude would have to be Paul Gilbert.  I had his Mr. Big albums, and then I went back and got all his other albums.  I just think that aside from the fact that he is a great guitarist, he can still write a good song.  He had a really good understanding of melody.
Charvel.com:  What's the hard rock scene like in the U.K.?
Taylor:  There has definitely been a resurgence.  I don't know if it's necessarily a good thing or a bad thing, but it's a lot harder to break out than it once was.   You're inundated with bands that do the same thing, but there are a lot of really great bands in the U.K. that are doing it.  I'm surprised that more bands haven't made it across the pond yet, but I'm sure they will in due time.
Charvel.com:  So what's happening with Young Guns in the near future?
Taylor:  We're trying to write as much as we can.  We set time aside from the tours and festivals to do that.  Our label actually has an apartment in New York, so we use that to book a couple of weeks at a time to run some demos.  We're going to focus on that and record an album towards the end of the year.  We've got stuff on the way.
For more information, visit Young Guns' official website.