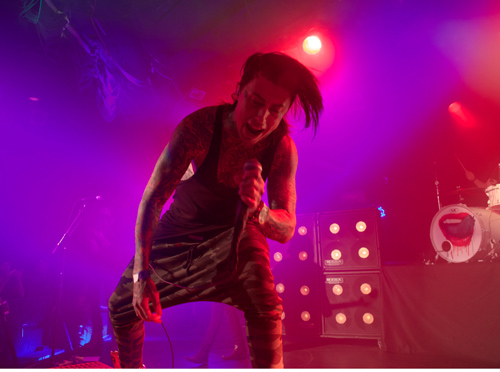 ————
Falling in Reverse's latest album Fashionably Late received a warm welcome this week when the band celebrated its release with a special performance at the Roxy in West Hollywood, Calif.
Starting around 2:30 p.m. PST, the event was streamed online to a worldwide audience.  But for those lucky enough to actually attend it, the energy and excitement was palpable.
The band came out on stage to shrieks and applause from the youthful crowd, with frontman Ronnie Radke pointing and waving to several familiar faces.  Falling in Reverse kicked things off with the familiar "I'm Not a Vampire," before rolling into the title track off Fashionably Late.
For Falling in Reverse diehards, it was a momentous occasion to see the rockers on stage, as they recently cancelled appearances on the Vans Warped Tour so Radke and his fiancée could enjoy the birth of their first child.
In a recent interview with Alternative Press, Radke decisively dismissed swirling rumors that the band was breaking up. He addressed the bogus rumors during the live set too, eliciting laughter when he joked that he was joined by all new members,
Even if they're not going out on Warped Tour, Falling in Reverse is a well-oiled machine, with the interplay between guitarists Jacky Vincent and Derek Jones keeping the hard-charging tunes flowing.
Once they launched into the opening lines of "Good Girls Bad Guys," nearly every fan began jumping up and down and sang each lyric back to Radke.
Falling in Reverse closed with the opening track to Fashionably Late, a growler called "Champion," but they were coaxed back out for a three-song encore.
First up was their latest single "Alone," before which Radke thanked Epitaph Records for backing him through some legal issues throughout his career.
The show's closer was truly joyous, as a young fan named Shelby was invited to come up on stage and belt out the band's classic cut "The Drug in Me Is You."
Falling in Reverse's next show won't come until the Monster Energy Aftershock festival in Sacramento on Sept. 15, so the daytime performance at the Roxy was truly special. 
Visit Falling in Reverse's official website for more information.