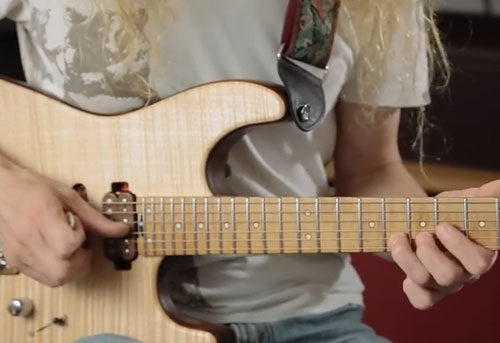 Ever wonder what the best way is to flaunt your skills as a guitarist to an opposing piano player?
The great Guthrie Govan might just have the answer. In a new master class for Guitarist magazine, Govan ran through some of the best techniques for string-bending, which should surely confound those who tickle the ivories around you.
"I think there's something about string-bending that's uniquely awesome when you play it through the guitar," Govan said in the 10-minute clip. "You can use your string-bending prowess to taunt the piano players of the world because try as they might, they can't do it at all. And it's a very nuanced, subtle thing."
While wielding one of his own signature Charvel models with a flame maple top, Govan began with the minor pentatonic scale and finds all the ways one can bend a string within that box before moving on.
Learn more in the in-depth lesson after the jump.