Charvel's team of Master Builders have created yet another collection of fantastic instruments for the 2016 NAMM Show in Anaheim, Calif.
Here's a quick look at six stunning Charvel Custom Shop guitars:
San Dimas 2H Bengal Yellow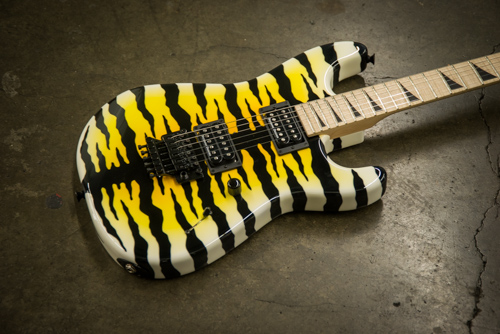 This ferocious beast was built to roar. Master Builder "Red" Dave Nichols created this ultra-cool cat using select alder wood, a quartersawn maple bolt-on neck, 12-16" compound radius maple fingerboard and a pair of Seymour Duncan® humbucking pickups. The perfectly painted striped body and matching headstock has a realistic ombre effect to its finish, and you can't help but notice the red Charvel logo on the headstock.
Surfcaster Roasted Pine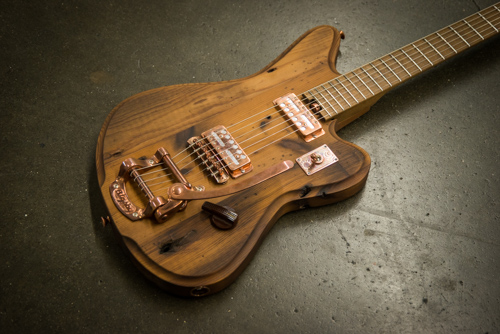 The Charvel Surfcaster Roasted Pine is a one-of-a-kind wonder with qualities so unique you can't help but stare. Master Builder Chip Ellis created a piece of art when he selected this special piece of reclaimed pine wood. The tarnished copper hardware balances and enhances the light and dark tones of the wood for an elegant touch. It features a Jazzmaster bridge, Bigsby tailpiece, gold-foil Lollar pickups, and stainless steel vintage frets.
Style 2 Roasted Pine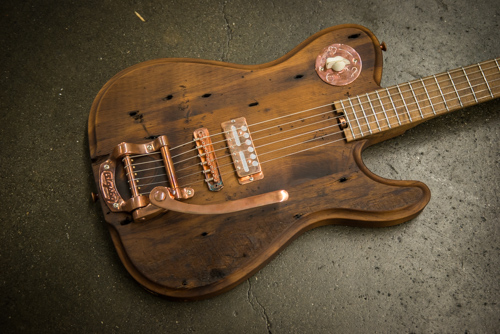 In addition to the Surfcaster, Ellis created another model in its likeness. The Style 2 features the same appointments as the Surfcaster with the exception of the pickup configuration; this one comes with a single gold-foiled Loller humbucking pickup. Another distinguished feature includes a unique chicken head style volume knob that sits in the upper bout of the body. The vintage volume knob is an old TV or radio dial that Ellis picked up from a neighborhood antique store.
San Dimas Birdseye Top Ghost Squid Flames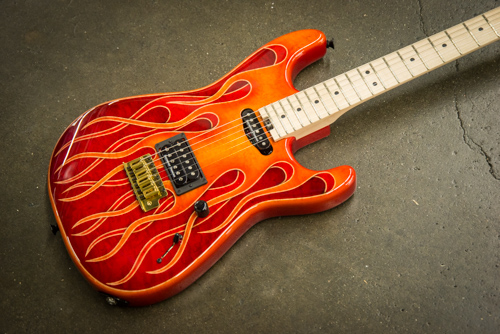 Nearly too hot to handle, this custom built guitar features a brilliant twist on a flame design. The bright red-orange tentacle-like flames fade into a crimson body, making this San Dimas model unlike any other. It's equipped with a pair of Seymour Duncan® humbucking pickups, a Charvel bass bridge, and a 12-16" compound radius fingerboard. The basswood body has a birdseye maple top that accentuates the unique flame design that much more.
San Dimas HSH Quilt Top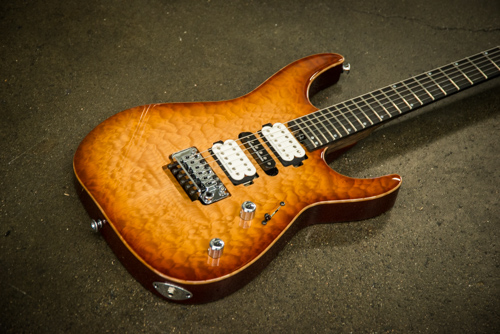 This quilt maple top San Dimas may be beautiful on the outside, but it's also a beast built to destroy. Packed with direct mount Seymour Duncan® pickups, this hum-single-hum monster is a force to be reckoned with, just like Nichols intended. Other standout features include a Floyd Rose® Bridge, Schaller tuning machines, a wheel-adjust truss rod, and a bolt-on wenge neck.
San Dimas 7-String Korina Walnut Top
Nichols was holding on to this stunning piece of wood for quite a while, waiting for the perfect design to strike him. It's easy to see why he became so attached to the elegant markings that make this guitar a knockout. This 7-string beauty features dual Bare Knuckle Coldsweat 7 pickups, a Hipshot® hardtail 7 bridge, Schaller® tuning machines, and a quartersawn bolt-on maple neck.