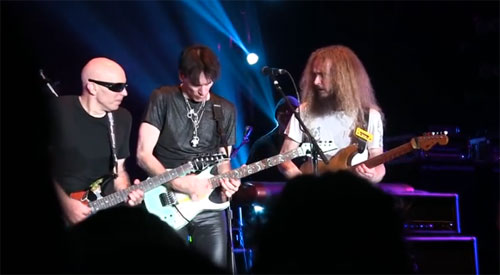 G3, featuring a new lineup comprised by Joe Satriani, Steve Vai, and the Aristocrats (Guthre Govan, Marco Minnemann and Bryan Beller), have wrapped their European run, but thanks to some excellent fan footage, everyone can enjoy seeing these masterful guitarists in action.
Prior to the tour, the Aristocrats had this to say:
"We have a tremendous amount of respect for Joe and Steve as groundbreaking artists in the world of instrumental rock who continue to bring it year after year. It will be a special privilege to bring our subversive brew of Aristocratic musical mayhem to the G3 stage – and especially the G3 audience. Let the games begin!"
Looks those games included covers of Nirvana's "Smells Like Teen Spirit," Jimi Hendrix's "Little Wing," the Police's "Message in a Bottle"  and more.
Watch some of the clips below …