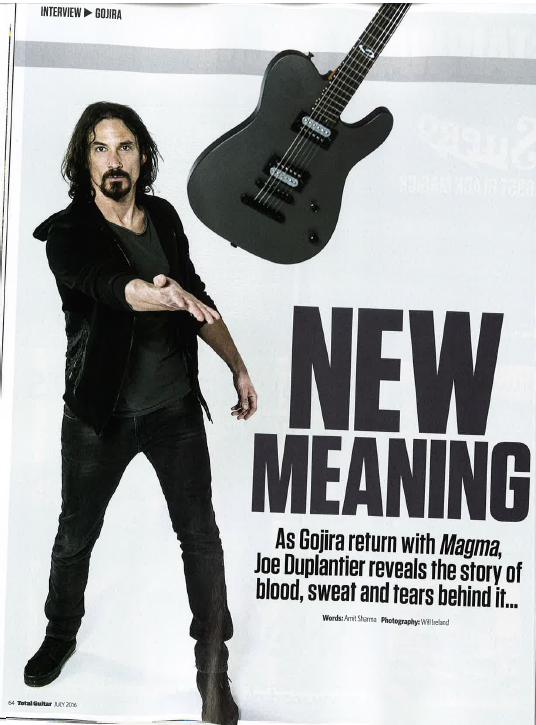 In its July issue, Total Guitar features a lengthy article with Gojira frontman Joe Duplantier.
The piece covers the blood, sweat and tears that went into making new album Magma, including building a recording studio, Joe and sticksman brother Mario moving to New York and the loss of their mother.
"It drastically affected the creative process," Duplantier said of her passing. "I kinda want to say the entire record is all about that … I'm all about that, I mean, I lost my mum. It's difficult to explain the reasons behind the art sometimes. You recycle every single thing that happens to you. We're all confronted by death… that's what people do. They die! It's interesting how something like that can be that extraordinary and painful, yet totally normal. Life has all these traps and forces you to evolve, so our music is a good image of what we are – anger, frustration, violence … but also peace."
Duplantier also provides insight into the band's gear and sonic approach for the album.
"For me, when it's time to record, I just run around, try to find my guitar (signature Charvel San Dimas), quickly get it all working and wrestle it into submission.
"But the Whammy is an exciting and cool tool. This was the first time we've actually used a pedal. Before that, our noises have been hand-made, like the pick scrape, which came from an accident on tour when I made this sound with strings and thought it was cool. So I did it again the next night and wrote it into some of our songs, along with pinched harmonics and weird bends. People always ask what pedal I use, and I always have to say 'I just beat my guitar and find sounds!' I was really proud of that. The only effect for us really has been the distortion of the amp. Now it will be impossible for me to play those riffs without the Whammy!"
Instead of stacking guitar tracks on top of each other, Duplantier said the band went for a more minimalistic approach.
"I wanted to record something that allowed people to hear the texture and tone of the guitars more than ever before," he shared. "Like the pick attack on the strings. So rather than a wall of sound, it would be at most two guitars. During the choruses I added a Telecaster underneath my signature Charvel— I love the sound of them because they're very bright and make a big difference even when super low in the mix. It brings a different vibe with the single-coils."
Click here to purchase the July issue (available via print or digital) to read the full article!