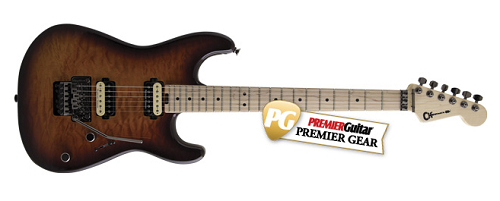 The Pro-Mod San Dimas Style 1 HH FR received a glowing two-page review in Premier Guitar's October issue, also earning the magazine's "Premier Gear" stamp of approval.
"For a lot of aspiring shredders, the image of Warren DeMartini's Charvel San Dimas in Ratt's 'Round and Round' video—with its blood and skull graphic—was about as badass as you could get in 1984," writes reviewer Joe Charupakorn. "That image helped cement the San Dimas' place as one of the must-have axes of the shred era. But it was no flash in the pan."
The San Dimas still stays true to those roots but offers many upgraded features that technical players covet, and Charupakorn's review offers a deep dive into the newest Pro-Mod Style 1 HH FR guitar's looks, specs and sound.
"With its transparent, tobacco sunburst, quilted maple top on an alder body, zebra humbuckers, and maple neck, the Pro-Mod version looks sharp, and a lot like an '80s shred kid grown up and keeping it classy in middle age. Rather more lurid solid colors like slime green and neon pink are also available for permanent adolescents."
Charupakorn continues with a detailed tour of the guitar's construction before turning his focus on the "six pack of sound" that makes this guitar standout sonically.
"You can get great sounds from just about every configuration," he wrote. "The neck pickup is crisp with a lot of bite, and free of tubbiness. The middle sounded a little glassier than the neck position and inspired whammy-infused, clean melodies (Steve Vai's 'Call it Sleep' riff among them). The bridge pickup is muscular, open, and sounds reminiscent of some of Guthrie Govan's brash lead tones. For rhythm playing, the tight low end makes Eddie Van Halen-style metal-boogie riffs and percussive djent-type rhythms sound equally tough and clear."
Charupakorn also praises the addition of the tone knob, which unlocks more tonal options to players.
"Several years ago, I pondered buying a San Dimas, but held off because it didn't have a tone knob. This edition of the San Dimas finally features that missing knob. But in order to please old-school San Dimas users, the tone knob has a very effective and useful no-load option, which removes the capacitor from the circuit entirely at maximum levels."
Read the full review, and hear a demo of the Pro-Mod San Dimas Style 1 HH FR here.