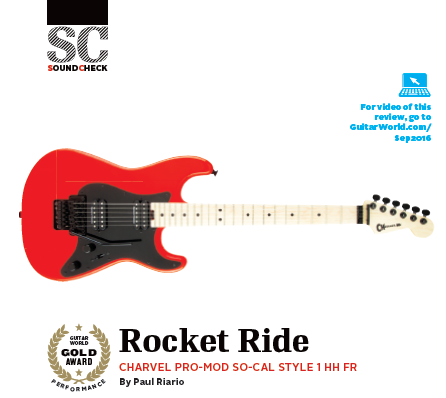 The Pro-Mod So-Cal Style 1 HH FR won Gold in Guitar World magazine's September issue. The article features a brief history of the instrument, quick spec overview and killer performance review.
"The new Charvel Pro-Mod So-Cal Style 1 HH FR epitomizes the classic stripped-down super Strat with premium components and an eye-catching finish that'll turn heads, but with a price tag that won't leave you down on the Sunset Strip," wrote reviewer Paul Riario. "The pickups sound huge with a fat bottom end, warm mids and searing highs when I played with tons of high-gain distortion, and the coil-tap on the volume knob gets you brighter spank on cleaner settings. The guitar is solidly built and feels sleek, but more importantly, it entices you to play fast with its 'speed neck' profile, low action and finely dressed jumbo frets that made me effortlessly shred above my talent level."
Riario's verdict?
"Hot-rodded with Seymour Duncan Distortion pickups, a hand-rubbed neck and a Floyd Rose double-locking tremolo, the Charvel Pro-Mod So-Cal Style 1 HH FR is a street lethal, fretboard-racing machine built for breakneck speed."
Read the full review here, and watch Riario's demonstration below.