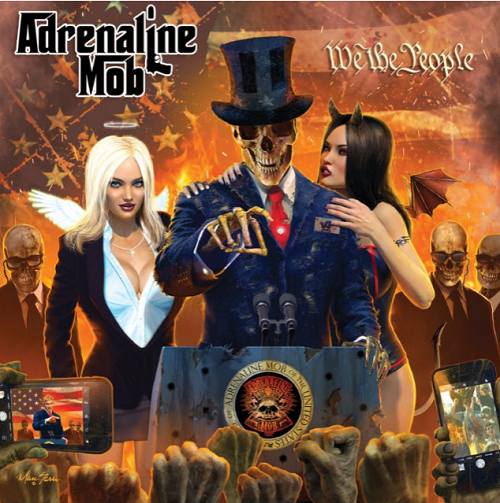 Adrenaline Mob has announced that new album We The People will be released on June 2 and will coincide with a supporting world tour. Vocalist Russell Allen and Charvel guitarist Mike Orlando recruited new members in drummer Jordan Cannata and bassist David Zablidowsky to record the follow-up to 2014's Men Of Honor.
Adrenaline Mob's music has always been politically charged, and the album's cover art and title indicates the band will continue to voice their opinion on the subject. The first song Orlando wrote for We the People is a track titled "Blind Leading the Blind," which expresses his sentiments around the Trump/Clinton presidential campaign.
"The title track is very much inspired by the past election year," explained Allen. "It touches on our society, here in America. The album title is a reflection of our times."
And those times don't solely focus on politics.
"The songs have certain particular stories that stand on their own," stated Allen. "Many of them are also driven by the climate we live in today and some are about having a good time, being free and loving rock 'n' roll. All the tracks have a personality and character to them."
Stayed tuned for more from Adrenaline Mob as the new album draws closer this summer.
In the meantime, fans of Orlando should also check out the clip below as he plays "Wheels in Motion" from his work with Sonic Stomp. The track will appear on the fall 2017 Sonic Stomp Live in Brazil DVD.