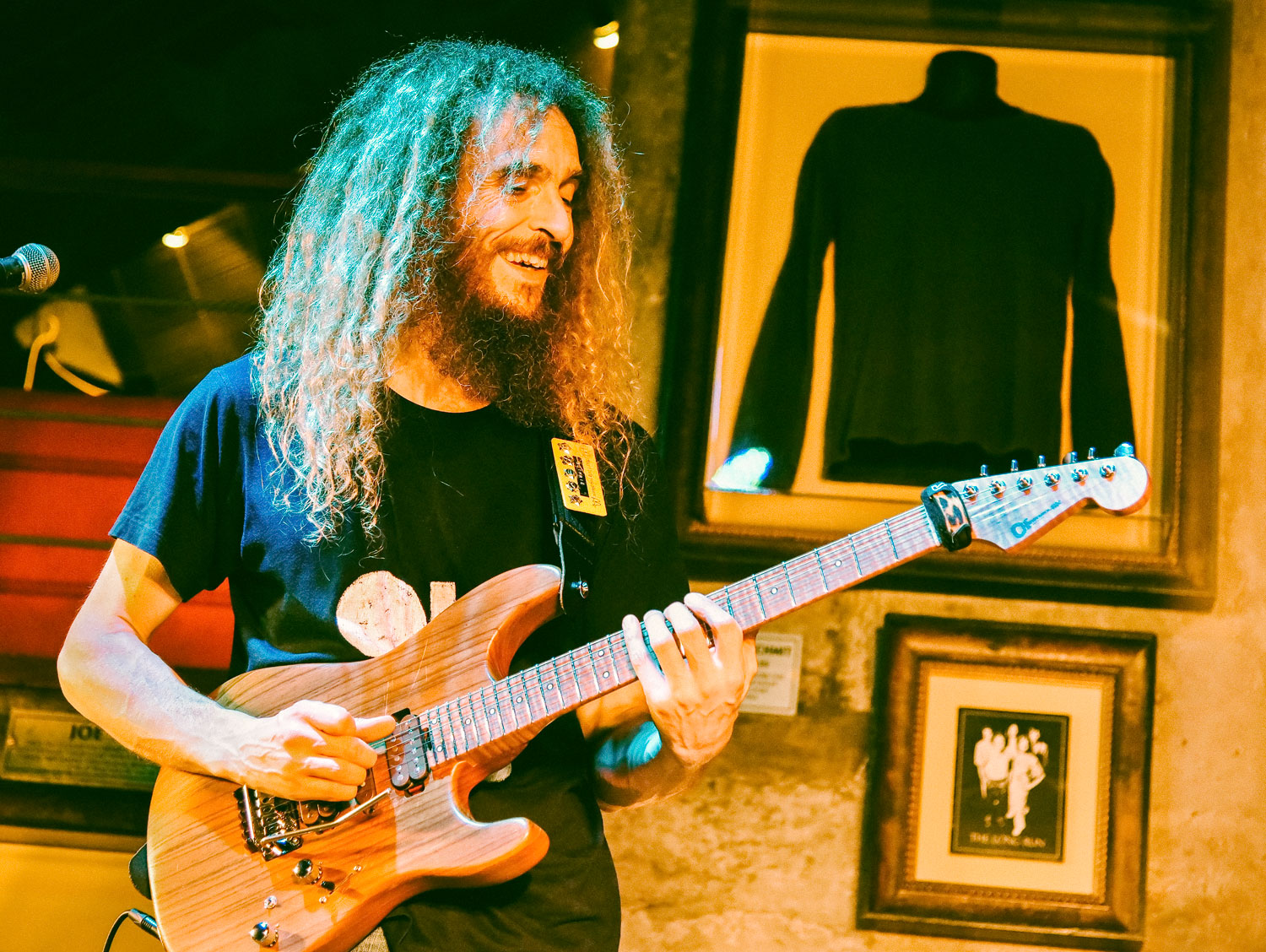 Charvel signature artist Guthrie Govan is currently in the middle of a summer-long Hans Zimmer Live tour, but he found a few minutes for this quick chat about the gig and his newest signature models.

Q:  Is it a true story that when Hans Zimmer first contacted you on Facebook you thought it was a joke?
A: Yeah, it might sound paranoid but my experience with Facebook – I've had a few episodes like that where people purport to me that which they are not so experience taught me to be suspicious and it just seemed so farfetched.
Q: How did you reply then?
A: I think it was something along the lines of, "Come on, we both know you are not Hans Zimmer. You are wasting my time and your time. You are not really Hans Zimmer so who are you and what do you really want?" And he replied, "no, no it really is Hans, the dodgy German composer. Here's my phone number, please call me," and I did.
It sounded authentic somehow, something about the second message and the persistence— like okay, he's keeping up the charade, maybe it is really him.
Q: How did that call go when you rang him?
A: Very encouraging, very flattering because this is what Hans does. He stays up until 5 in the morning watching YouTube videos and looking for weird new musicians that he might want to work with and he found some clip of me playing fretless guitar and he liked the eccentricity of it. Originally he was looking for people playing fretless guitar because he wanted to reinvent the Thelma & Louise soundtrack and on the original recording it was played by Pete Haycock. Pete was very good friend of Hans and is no longer with us so it's a very emotionally charged piece of music for Hans. So he went to all of this trouble to look for someone who could play slide guitar in a different way and then realized the piece of music was close to him that he didn't want to do it in the set —he wasn't ready and so we did a whole European tour last summer and only on the last gig of the tour did we play Thelma and Louise. I guess I didn't screw up too badly because its back in the set every night now.
Q: How familiar were you with his work before getting the gig?
A: I don't know if anyone is familiar with ALL of his catalog because he's just such a prolific guy but yeah, I was fully aware of his work and what he does. The funny thing is—even people who don't the name have been exposed to that music. You can't really escape it, he's such a big deal in the world of Hollywood scoring.
Q: Is there a certain song in the set that is your favorite?
A: Everything is fun in a different way. From a guitar's perspective, where I have the most spotlight if anyone's curious, is the Thelma and Louise piece. It's just a six-minute guitar solo. And there's some stuff in Crimson Tide and Angels and Demons that I enjoy.
It's just an interesting gig because it's like acting almost. You have to be a different musician for each song. If you listen to the original soundtrack, there's not that much guitar going on. When Hans gives you the gig, he just says, "I've hired you because I believe in you. I trust your mind, and I trust your fingers so you'll know what to do. I'm not going to micromanage you. Do what you think is right and if I disagree, don't worry, you'll know about it."  So it's flattering and high pressure. I've found a mindset that work, which is I just have to imagine what type of guitar player would complement that song and then become that guitar player for its duration.
So, it's a really good contrast. Before I started this tour I was going around India and Japan playing my solo stuff with a trio of local musicians. This is completely the opposite in every way. I think balance is a healthy thing. I'd be tearing up the furniture if I just had to do one thing for the whole of my musical life—variety helps to keep things fresh.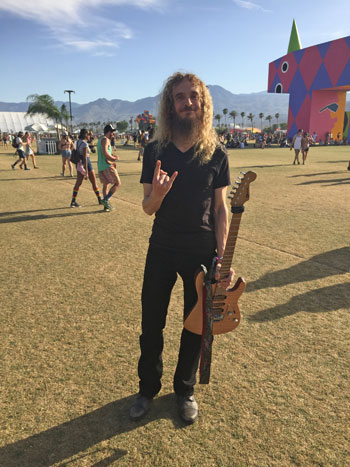 Q: What led you to guitar to begin with?
A: It kind of found me. I started playing when I was so very young. I don't remember choosing a guitar but there was a guitar in the house. My dad knew about five chords. So it was just part of growing up — a matter of thinking "What's that object I see every day in the living room, and I need to learn how to operate it." Then I discovered you could use it to play Elvis songs and the rest wrote itself.
Q:  What was it that brought you to Charvel?
A: I just had a good vibe the first time I met people from the company and I sensed they actually wanted to work, and cooperate and collaborate to make a guitar that is perfect for me. It felt like they would listen to all of my input, and we spent about two years just fine-tuning and tweaking. They probably did get tired of me but they didn't say so, and I think there is a unique and versatile instrument that came out of all of that process.
There are other companies I could have worked with, but it would have been more like "Here's our flagship heavy metal guitar, we can put your initials on the 12th fret – what kind of paint would you like on it?" That would never feel quite right. If I'm going to stick my name on the back of a headstock, it feels so much better to have input into everything.
The most painful part of the genesis of my signature guitar was the tremolo. We spent a lot of time attaching different arm attachments and stuff like that. I can remember being on tour with Stephen Wilson, the guys would send me a new bridge and metal working tools and I'd be there changing the size of the hole where the arm goes into the bridge plate and leaving a pile of iron filings on the carpet when I checked out of the hotel. It was a lot of back and forth, but we got there in the end. The thing that really cheers me up is occasionally I'll see a YouTube video of a respected player who doesn't do the kind of thing I do and they found this guitar and found something about it that works for them.
I was very happy when I heard John Mayer bought one. I was like, "Okay, you are not really the target audience for this guitar but you found merit in it – that's great." That's the proud parent feeling.
Q: You've got two new models out now. Can you talk a bit about what you were going for with the Signature HSH Caramelized Ash and Signature HSH Flame Maple guitars?
A.  Yes, the Caramelized Ash … I like an ash guitar – it has a different frequency response, and I have also always liked the neutrality of basswood with a little bit of maple on the top. I think you can get pretty close to the sound of a lot of different guitars with that wood because there's no EQ bias anywhere with that wood combination. Ash has a bit more of a character and asserts itself in a bit more noticeable way. It just kind of works for me. When we did the last Aristocrats album I deliberately wrote all of my contributions using a bolt-on guitar with three single coil pickups, which will go nameless, because guitar tones will make you play differently and you get a different kind of inspiration when the voice of a guitar is sounding a certain way. I very much went down that, okay, I'll say it, the Strat route, and I thought for playing that live, wouldn't it be really cool to have the GG but with a little more of that single coil DNA? Also, I really like the new secret switch — it kind of makes the humbuckers sound like single coils without the hum you would normally associate with those.
Q: How many guitars do you have in your collection in total?
A: I don't know. Not that many. More than 10, less than 20.  In touring and flying around so much, it gets confusing and sometimes I have no choice but to leave a guitar in a certain destination and I'll see it in a year when I come back. My Charvel signature model in the Britannica Red – it's currently in one of the Charvel offices. I've got a couple of these guitars stationed in unfeasible parts of the world right now.
Q: Are you one of those guys who will play guitar incessantly?
A: Not really. I like the idea of walking on stage and picking up a guitar and being pleased to see it.  If I'm recording, yes, a lot of playing and your fingertips feel the difference and you are changing strings twice a day. Day to day life, sometimes I'll take the guitar in the hotel room on a day off, sometimes I don't.  I'm always thinking about music.  A lot of the practice I do now is just listening to musically actively or thinking about music and imagining how something would sound, and the actual guitar playing aspect of it is just motor skills. As long as you do some playing every day, you remain gig fit. I've never been one of those people to warm up for 8 hours before a show. Sometimes I'll just walk on stage, plug in the ear-monitors and go.