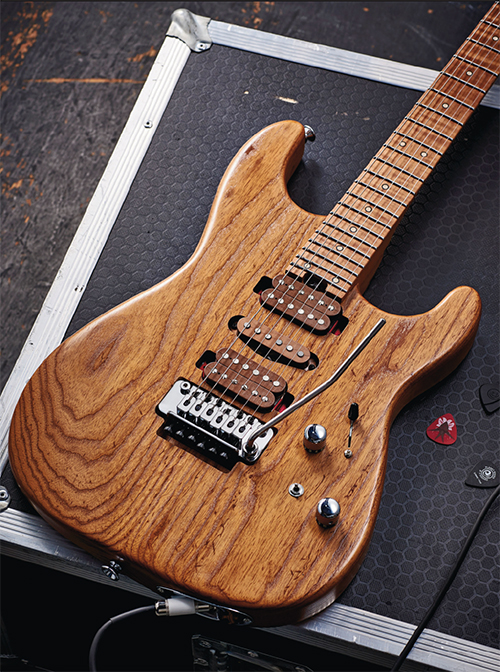 In its October issue, UK's Guitarist magazine takes an in-depth look at Guthrie Govan's newest Charvel signature models  — the Guthrie Govan Signature HSH Caramelized Ash and the Guthrie Govan Signature HSH Flame Maple.
Both models earned a rave review, with the magazine concluding that these bolt-on instruments are "up there with the finest" they'd ever played, and more like a high-performance rifle than a guitar.
The article takes an in-depth look at all the features of these "uber axes," noting its many subtle and well-thought out details.
"The bridge, initially, looks like an early Floyd Rose (without fine tuners) but is a USA-made Charvel design that centers around a thick brass inertia block, steel top plate and large saddles into which the strings are locked via those long Allen key bolts; once intonation is set each saddle is firmly locked in place," writes reviewer Dave Burlluck. "It's back routed too and the whole unit is recessed into the body so the top of the bridge plate is flush with the top of the body. A Tremol-No is fitted so you can prevent upbend, lock it in place as a fixed bridge or, as supplied, just use it as a free floating vibrato with a huge range from floppy to an upbend of approximately a fourth on the G string (it'll go a bit higher but we stopped there).
"Guthrie Govan's vision for an all round workhouse that'll stand up to the rigors of professional touring is superbly realized in this signature. Every detail is wonderfully considered: the over-sized strap buttons, the Strat-like dished output jack placement, the hugely intuitive drive, that secret 'single coil' switch, the impressive tuning stability (and startling range) of the vibrato, not to mention the wood choice, graphite reinforced neck and a really unposh working player's vibe. Is there anything Guthrie hasn't considered?"
In summary, Guitarist proclaims Guthrie's signature models as astonishing guitars and a player's tools of of the highest caliber.
Purchase Guitarist here to read the full review.