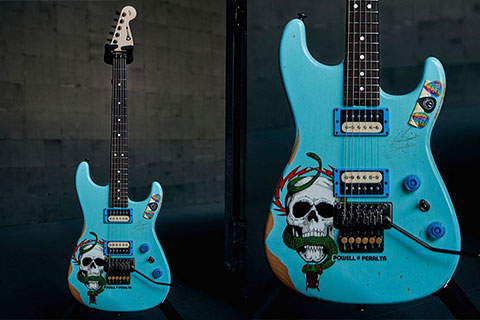 Acclaimed guitarist John Mayer recently posted his latest Charvel Custom Shop guitar to Instagram and it is incredible. The Charvel San Dimas® model is based on an old Powell Peralta "McGill" skateboard deck that Mayer owned in the late '80s. Combining both California skate and metal cultures that inspired him while growing up, Mayer's axe evokes the look and style of a worn out board.
"This guitar has been a dream of mine for a decade," said Mayer.
With artwork hand-painted by guitar-art legend Dan Lawrence, the relic'd beast uses EVH Wolfgang humbucking pickups and features blue speed knobs styled after urethane skateboard wheels.
This one-of-a-kind guitar is definitely a site to be seen. Catch John Mayer and the custom axe on tour as he travels around the world with Dead & Company. CLICK HERE for tour dates.