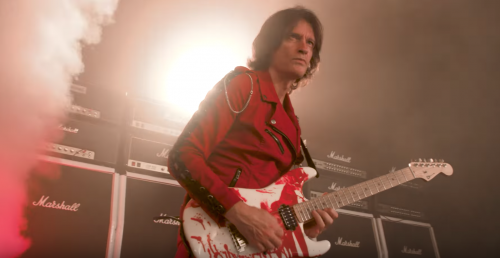 Impellitteri released the new music video for "Run For Your Life" off their upcoming 11th album Nature Of The Beast, and there is no shortage of killer guitar riffs or solos at break-neck speeds.
"The new music was written with passion and a sincere love for heavy metal," said Chris Impellitteri in a release. "I think as a band we grow stronger with each new album. Our artistic abilities seem to get better with age, but at the same time we seem to sound even more energetic, crazy, and youthful with this release."
In the new video, Chris Impellitteri showed off wicked fret work on his Charvel Custom Shop Legacy Bloodsplatter guitar.
"As a guitarist, I challenge myself to conquer my human limitations," he shared. "I practice for hours each day to improve my technique. I also spend a lot of time customizing my guitars, amps and pedals to achieve this crazy guitar sound. On this new record, my guitar sound is really me trying to create a tone that sounds a bit like a chainsaw blended with a beautiful Stradivarius violin. It is Beauty and the Beast with lots of pick attack! The guitar solos have lots of technical shredding elements, but at the same time they are very melodic and I think fun for everyone to listen to. The riffs are also exciting for me to play as there is a lot of obvious influences that I brought to this new record."
Nature Of The Beast will be released Oct. 12. In the meantime, enjoy the video below.