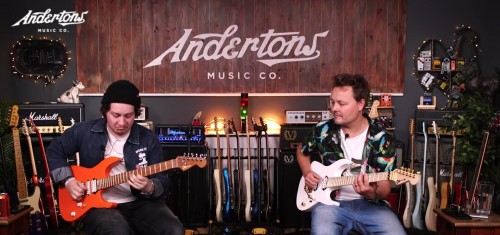 The Pro-Mod DK24 2PT CM has two new fans in Peter Honoré and Joss Allen of Andertons Music; the guys just couldn't get enough of the guitar's versatility and features after a recent video review.
Both chimed in with high praise for the new Gotoh® Custom 510 tremolo bridge.
"Underneath this unbelievably cool Satin Orange Crush finish, we've got the non-locking tremolo, very reminiscent of the Floyd Rose trem that doesn't have the locking system," said Allen. "It is recessed, so it is floating."
"You know what I really like about [the non-locking tremolo]?" added Honoré. "It doesn't flutter. When you hit it hard, it doesn't buzz."
Allen also ran through each of the pickup positions with the five-way selector blade, finding that the DK24 packs a wallop of versatile tone with custom Seymour Duncan pickups.
Check out the DK24 in action below.