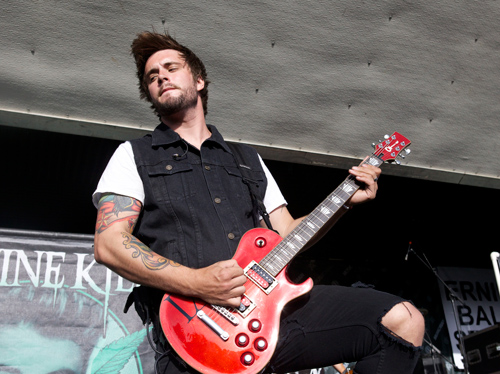 Ice Nine Kills was one of the standout acts manning the Battle of the Bands Stage at last weekend's Vans Warped Tour in Ventura, Calif.
With a new EP out titled The Predator, the band was locked and loaded to deliver a few fresh tracks while still giving the crowd a bit of familiarity.
The connection between audience and black-vested band was evident from the start, as the younger-trending fans packed close to the barricade.  Vocalist Spencer Charnas didn't let that keep him from interacting, as he jumped out to scream inches from the front row early in the set.  Those close enough to get near the microphone enthusiastically yelled each line of lyrics back to him, too.
One notable highlight came just as the sun began to dip during Ice Nine Kills' 6:30 p.m. start time, when Charnas tried to split the crowd in half, forming a void in the middle of the matted grass.  As the band kicked into the rager "Buildings Burn, People Die," Charnas gave the OK to come together in a frantic mosh pit.
After waiting several hours to see Ice Nine Kills, the aggression elicited by the 2010 track off Safe Is Just a Shadow was a solid way to show devotion to the Boston hardcore stalwarts.
For more information, visit Ice Nine Kills' official Facebook page.