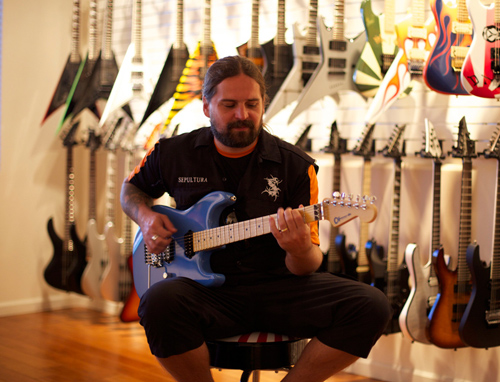 Andreas Kisser is widely known as the ace shredder for Brazilian metal stalwarts Sepultura, and that band has an album coming out on Oct. 25.
But in the past year, Kisser has been working with another band, the all-star lineup of De La Tierra.
Made up of Álex González (Maná), Flavio Cianciarulo (Los Fabulosos Cadillacs) and Andrés Giménez (D-mente, A.N.I.M.A.L.), De La Tierra has paired with Stanley Soares, a longtime Sepultura collaborator, to produce music that is definitely heavy.
This is no supergroup, however.  Kisser notes that the collaboration came together organically with a notion to continue as a group beyond their debut album.
Charvel.com recently caught up with Kisser to get the inside scoop on De La Tierra.
Charvel.com:  How did De La Tierra originally come about?
Kisser:  It's amazing. I'm so glad that I received the invitation from these guys.  It started with Álex González, who is the drummer from Maná, and Andrés Giménez from Argentina. Álex is a metalhead. Even when he plays with Maná, you see the skulls on his drum set.  He wants to show that he has some metal blood.  He and Andres were talking about this project for like eight years.  It was always, "Come on, let's do this."  And finally, they said, "Let's make it happen."  That was last year, and Álex called me about this heavy project.  He said we wanted to sing in Spanish, and I said, "F**k, that's great!" With me here, we could put some Portuguese on there, as well.
Charvel.com:  What was the recording process like?
Kisser:  We started exchanging demos through the Internet.  About two months ago when we went to Buenos Aires to work with each other, many of those demos were already arranged.  We're doing it ourselves, financing it ourselves.  It's not like a big management company behind us putting together four guys who have a history in music.  Not like Menudo.  It's really us wanting to do something special and new.
Charvel.com:  Is the focus on Latin America, considering the lyrics are in Spanish and Portuguese?
Kisser:  We want to be able to play everywhere.  That's the idea.  There will be Spanish and some Portuguese, of course, but it's heavy.  Hopefully the music can get past that [language] barrier.  Other bands have done it before.  At this point, the album is done, and it sounds great.
Charvel.com:  Was it tough to balance the work with De La Tierra while you were recording with Sepultura?
Kisser: I'm so happy with the result, with the ability to manage our time the way we did, because I'm here recording for Sepultura, and it worked great.  So far, one band did not get in the way of the other (laughs).
Charvel.com:  What do you have planned for the new Charvel guitar you're using with De La Tierra?
Kisser:  We're going to have the artwork from the cover of the album on the guitar.  I have a Charvel from 1987, which I used to record on all Sepultura albums.  I love the sound of the Charvel.  It always stays in tune.  I leave my house for months, and you can always pick it up and play it.  I've had it for so long, I consider it my first guitar.  I don't tour with it anymore because it's such a special guitar.  It's got an EMG pickup and a Floyd Rose.  My next one will probably be a single pickup, too.  It's the sound that I want.  Just volume, and let's go.
Charvel.com:  What is coming up for De La Tierra?
Kisser: It's still early, and we're focusing on the album.  We're talking to some labels, and there is some interest.  We even have offers for shows, and we haven't put out the record yet
For more information, visit De La Tierra's official Facebook page.