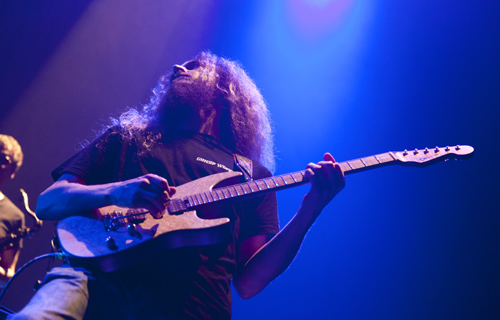 In a recent interview with Premier Guitar, guitarist Guthrie Govan and bassist Bryan Beller of the Aristocrats talked about their latest album Culture Clash, their influences and the face-melting solos that manage to shine through both on the record and live.
Govan also discussed the prototype guitars that he is working with Charvel to perfect.
The English axeman noted that he is currently playing prototype No. 3 on the Aristocrats' current tour.
"These guys really care when I give them suggestions and are on the case immediately. So they turned up at the gig yesterday with prototype #3. Different bridge—that's all I'm saying," he explained.
One of the main sticking points for Govan is the bridge, but he believes No. 3 might just be the charm.
"One of the things that has worried me for years is I don't like the full-on, double-locking trem and all the ungodly metal work that tends to come along with that design," he said.  "It gets in the way of your picking hand and then there's the tedious locking nut and not being able to change the tuning in the middle of a gig. Life's too short for double-locking trems, in my opinion. I've always tried to make a vintage-style trem stay in tune and I've never quite succeeded. When I was trying to relearn the songs for this current tour, I listened back to a couple of moments from our live DVD [Boing, We'll Do It Live!] and thought, 'Really? That was in tune two minutes ago, what happened?' But with this model, I think we have cracked it. Sorry to taunt your readers, but I think we cracked it … you'll see!"
Govan also would not divulge much information when asked about the potential of a Charvel signature model.
"We're working on it. It will probably happen fairly soon. I don't want to promise anything, but I know how excited the Internet gets about these things," he said.  "If I put two Facebook posts out and one is about a new album and the one is about a signature guitar, the guitar one will distract everyone from the album. It's weird to me, but that's how things seem to work. I guess people need to know something. With that in mind, we're working together and have one very nearly dialed in that is very close to deserving the title of a signature model. Other than that, I cannot and will not say — but something will happen in the foreseeable future."
Read the entire interview here and visit the Aristocrats' official website for tour dates.