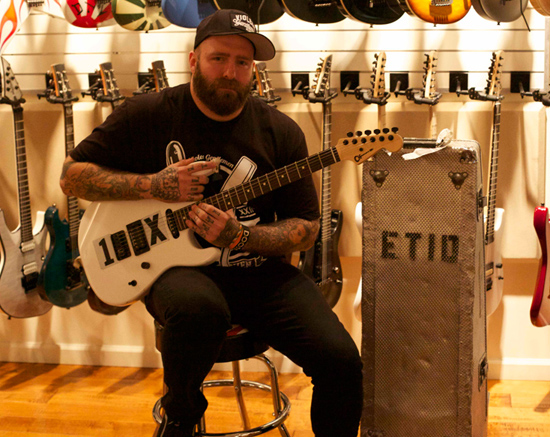 Currently on tour with Letlive and Code Orange Kids, Andy Williams of Every Time I Die has been hard at work igniting sold-out crowds with his searing fretwork.
The Buffalo, N.Y., native has been doing it for a long time, too.  Founding the metalcore band in 1998, Williams marvels at the fact that Every Time I Die continues to chug along 16 years later.
Charvel.com recently caught up with Williams to chat about the guitar he's taking on the road with him and the secret to keeping a band together.
Charvel.com: What drew you to Charvel guitars originally?
Williams: I'm not really into guitars with a Floyd Rose on it, but I noticd that Joe [Duplantier] of Gojira has a stop tail piece on his.  I thought, "Holy shit, they have stop tails, hard tails.  This is going to work."  I'm a guy that has always loved Strats, and so what I ended up using is one of the super Strats, the Pro Mod San Dimas with a hard tail.  It's what I'll bring out with me on the road.
Charvel.com: Do you have new material in the works?
Williams: We're going to record in March. That's the plan.  We're currently in the writing phase, and we do have a producer – I don't know if I'm allowed to leak that.  I have a little rig in my basement, and I've committed to playing the Charvel down there.  That's not to butter the biscuit.  That's real.  Right now, I've got like six songs written, and I know Jordan [Buckley, guitarist] has a few.
Charvel.com:  How does your writing process work?
Williams: Jordan lives in Orange County now, our drummer lives in Ontario, Canada, and me, Keith [Buckley, vocals] and Steve [Micciche, bassist] live in Buffalo.  My thing is, I started drinking coffee just over three years ago, and I'll take four Alpha Brains in the morning, drink an entire pot of coffee, pick up a guitar and go from there.  Because of that, Jordan would get like 19 riffs a day.  I'd be talking a mile a minute and excited about everything.  He thinks completely different than I do.  But, between all of us, we get a stockpile of riffs, then come together and put it all together.
Charvel.com: On the 2012 album Ex Lives, why did you throw a banjo into the song "Partying is Such Sweet Sorrow?"
Williams: That was this crazy thing that Jordan sent me.  It took me a while to figure it out, and really, we didn't hear the banjo until we were all together.  It ended up making a lot of sense, but that's a good example of how it's really weird to write apart from each other.
Charvel.com: How have you been able to stay together for so long as a band?
We've been together for 16 years.  My favorite thing to think about when you ask that is that the Beatles were only around for nine years. They literally trump Every Time I Die in everything else.  They have way better songs.  They're more classic.  They've done some really cool shit.  But they couldn't last 16 years! [laughs]  We're kind of like the guy in baseball that got hit by the ball the most.  He may not have a ton of home runs or many hits, but he got hit by the ball a lot.
Charvel.com: How have you managed to stay friends as a band through all those years?
Williams: Part of it is that none of us take ourselves too seriously.  That's the biggest thing, not having an ego.  We're just dudes that play music, and if you like the band, you like the band and that's cool.  We're going to be at the bar, and you'll be able to come up and have a drink with us.  Our arguments go until someone farts, and then we all laugh.  We have arguments, but once we start laughing at some little thing, you see the big picture.  It's not really worth ruining it over something small.  We just get to do something awesome and play music.
For more information, visit Every Time I Die's official website.