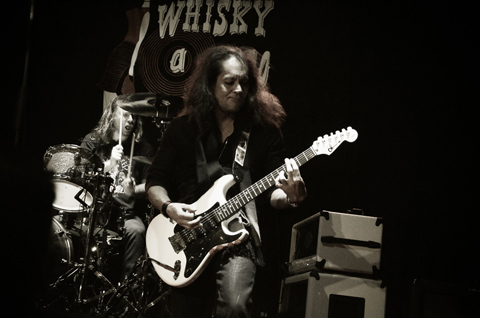 Many years ago, the legendary Jake E Lee quietly rode off into the sunset after an amazing career with Ozzy Osbourne and Badlands, preferring to live a life out of the spotlight.
Now, with a new band – Red Dragon Cartel – and a new white Charvel signature guitar, Lee is back. Twenty years was certainly a long time to wait, but perhaps that's what made Thursday night's debut concert at Whisky A Go Go so special.
Fans packed the Hollywood landmark eager to see the wild-haired guitarist do his thing, with the crowd growing after each opening act completed their brief sets.
By the time the clock struck 11, Eddie Trunk, the influential hard rock and heavy metal radio personality (and host of VH1 Classic's That Metal Show), walked out on stage to introduce Lee. Trunk told the story of how he worked for years to not only seek out Lee, but also book him on That Metal Show, first as guest guitarist, and finally as a member of the rock-talk roundtable.
Eventually, around 11:30 p.m., it was time. Descending the Whisky's stairs from the dressing room to wild applause, Lee unbound the topknot in his long hair, acknowledged the audience with an appreciative grin and picked up his trademark weapon.
First off, Red Dragon Cartel launched into the Osbourne hit "Ultimate Sin," with singer D.J. Smith belting out the familiar lyrics. Lee seemed to be at home, even if he was still getting his sea legs.
The band followed that up with an original, the recently-released "Deceived" from their upcoming self-titled album (Jan. 28). The raw rocker showed Lee in vintage form, making aggressive pulls at his strings and breaking off a few ripping solos throughout.
Red Dragon Cartel dipped into Lee's Badlands catalog next with a searing version of "Highwire." The unmistakable riff was a familiar snap back to reality whenever Lee lulled everyone into a hypnotized state during more of his guitar acrobatics.
By the fourth track on the setlist – the Red Dragon Cartel original "War Machine" – chants of "Jake! Jake! Jake!" rose up in waves.
Osbourne and Badlands were tabbed a few more times, in the form of "Rock and Roll Rebel" and "Rumblin Train," respectively.
As the night reached its apex, the band pulled out their first single, the scorching "Feeder." The recorded version features Cheap Trick's Robin Zander on vocals, but Smith rose to the occasion on the heels of a scorching riff from Lee and a thunderous beat from bassist Ronnie Mancuso and drummer Jonas Failey.
Of course, no Jake E. Lee welcome party would be complete without "Bark at the Moon," the monster Osbourne hit Lee is known for. Lee worked his guitar effortlessly whether he was playing his Hall of Fame riff or burning through another solo.
RATT's Warren DeMartini, a friend and former roommate, was in the house. So was another former Osbourne guitarist in Joe Holmes. And that's not to mention the supporters who listened to Ozzy and Badlands records with a love for Lee's guitar.
All in all, it was a joyous occasion. As Trunk noted before Red Dragon Cartel began, tons of fans had been clamoring to see Lee back in his element.
Judging by Lee's expert fretwork – even after his performing hiatus – it was clear that he was.