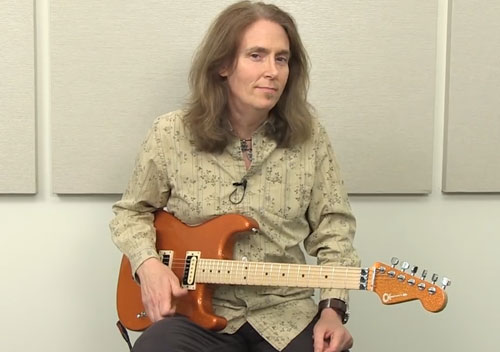 Don Carr of Sweetwater Sound recently took a hard look at a Charvel Super Stock SD1 in Sunset Orange Flake and came away pretty impressed.
"Everything about this guitar exudes attitude," wrote Carr. "The Floyd Rose trem is a must-have for guitarists who put their trem arms to serious use, allowing for huge dive bombs and squeals while maintaining your tuning stability. You get a fat-sounding pair of Seymour Duncan humbuckers, a JB at the bridge and '59 at the neck. And the absence of a tone circuit helps these pickups pack even more bite.
"The maple neck and fretboard have a great feel for faster, more expressive playing. The neck carve is not too thin, not too fat, with a compound radius fretboard that flattens out as you play up the neck. Between the compound radius and the big frets, you can execute huge bends without worrying about fretting out."
Carr also produced a video that shows just how much this guitar screams.
Watch the clip after the jump.