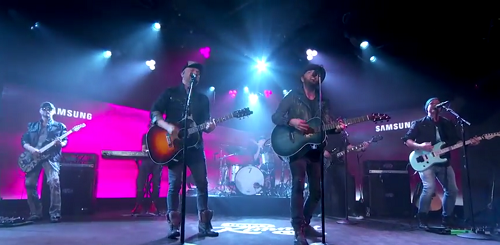 American country music duo LoCash made their late night TV debut last week on Jimmy Kimmel Live, performing their hit "I Love This Life" and new single "I Know Somebody."
Chris Lucas and Preston Brust began their careers co-writing some of country's greatest hits for Keith Urban and Tim McGraw, and now they are enjoying their time in the spotlight. The duo's dynamic sound is backed by an enormous five-piece band, featuring guitarists Paul Scott and David White, who sure showed their love for Charvel during the set.  White busted out his Warren DeMartini Signature Snake with Scott rocking a So-Cal Silver Sparkle and a San Dimas in Specific Ocean.
Watch both Kimmel performances below and visit the official LoCash site for a list of tour dates.