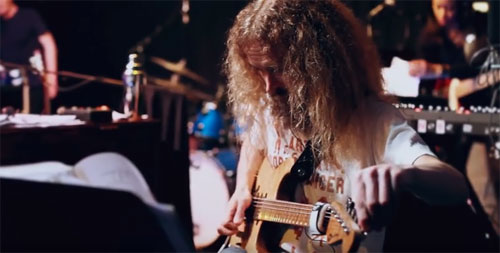 A new behind-the-scenes video for the Hans Zimmer Live tour, which kicked off April 6 in London, takes viewers through the first few days of rehearsals as Zimmer and his 77-piece orchestra get ready for what looks to be a phenomenal show.
Included in the festivities is Charvel artist Guthrie Govan, who can be seen a few times throughout the package with his signature model.
Govan previously shared how he connected with Zimmer during a 2014 interview with Ultimate Guitar's Rebecca Livingstone.
"He sent me a Facebook message and I didn't believe it was him," Govan revealed. "I get some fairly weird Facebook messages, sometimes people seem a bit like stalkers or whatever. So I replied to this, 'You're probably some 14-year-old kid looking for my email address, please don't waste my time."
Zimmer apparently wrote back, saying, "No it really is me the dodgy German film composer, I found you on YouTube, I love what you do with a fretless guitar. Do you want to be in my band?"
"So I was like okay maybe it really is him," shared Govan. "I just find it funny that I nearly blew the whole thing by refusing to believe it was actually Hans. It just seemed so implausible that someone in his musical world would know about what I do because I'm kind of a specialized player. But that's what he does, he watches YouTube. He's always looking for new musicians, new inspirations stuff like that. He's a great guy to work with."
Hear from Govan and Zimmer, and enjoy a look at rehearsals in the clip below. Click here for tour dates & ticket info!