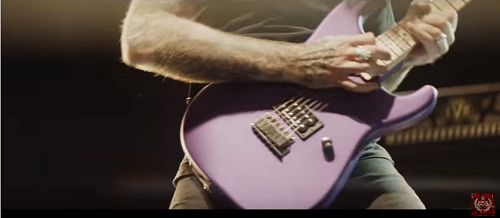 The wait is finally over! Stone Sour have returned with a new music video for "Fabuless," the first single off upcoming album Hydrograd.
Directed by Paul Brown, the video begins with the band preparing to hit the stage and then segues into a live performance as the song kicks into overdrive. The camera focuses in on each band member, zeroing in on gear that includes a nice shot of Christian Martucci's Charvel Custom Shop San Dimas Style 1 in Satin Plum, featuring a single humbucking pickup and vintage-style tremolo. As the video continues, the crowd is revealed to include inflatable sky dancers that eventually trade places with the Stone Sour crew.
In addition to the new video, lead singer Corey Taylor recently told BBC Radio 1's Rock Show more about the album's direction.
"This album is great because it's got elements of everything," he said. "It's got the heavy energy of the '80s, there's punk moments, there's hard rock moments, all the great amalgam of music. There's even jazz and hip-hop moments. It's really, really cool. It's probably the coolest album I've made since the first Slipknot album, let's put it that way. It's dope, dude. And, hey, I feel very confident making that statement, because it's so good."
Stay tuned for more details as Hydrograd's June 30 release date draws near, and check out the band's summer tour dates supporting Korn here.
Watch "Fabuless" now below …