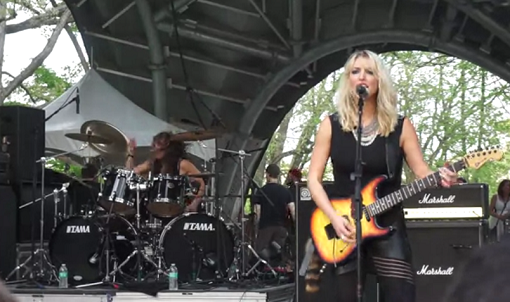 Glam metal femme fatales Vixen are gearing up for a new album that will be released later this year.
The band reunited over three years ago, and fans have been anxiously awaiting their comeback studio album since last release Live and Learn in 2006. Rockpages.gr recently shared a statement from bassist Share Ross' interview with 98.7 The Gater of Palm Beach about their progress on the new material.
"We've been working on stuff, which is challenging, 'cause we all live really far apart from each other," said Ross. "But we are getting stuff recorded and getting it done, so hopefully this year we'll finish that up. We started off trying to [work on new music separately], and we just got really frustrated, so we all just fly to where the drummer lives, in Detroit, [which is] way better."
Ross also shared that the album will be dedicated to founding member and lead guitarist Jan Kuehnemund, who lost her battle with cancer in October 2013.
The current lineup also consists of original members Roxy Petrucci on drums and lead singer Janet Gardner, as well as Charvel artist Brittany Denaro on guitar.
Stay tuned for more album news throughout the year, and catch Vixen in a handful of live appearances this summer. Dates here.
In the meantime, get your Vixen fix below with fan-filmed footage from the M3 Festival in Columbia, Md.