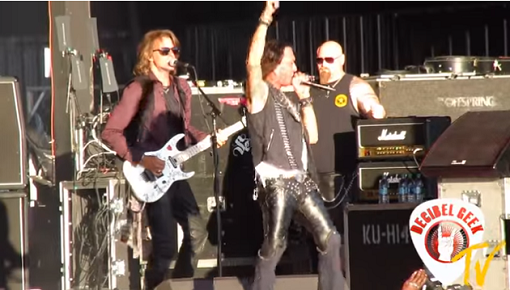 Recently reunited RATT members Warren DeMartini, Juan Croucier and Stephen Pearcy caught up with radio station 98.9 The Rock during their appearance at Rockfest in Kansas City last week.
The original trio's interview with station's DJ Nivens included talk of their desire to head back to the studio to record a new album. While Croucier was reluctant to over-promise, lead singer Pearcy was more straightforward.
"I would love to get that done, actually. I would," he said.
Earlier in the year, Pearcy told journalist Mitch Lafon about their plans to follow up last record Infestation.
"We want it to be brilliant, and we're gonna take the time and effort to do it," he explained. "We just don't wanna go out there and … I mean, of course, we're gonna go out there and play the hits and do what we do, but at the end of the year, we wanna start on the record."
While fans will have wait for a future new album, they can at least catch the band live this summer on the following dates. Also, check out some great footage captured by Decibel Geek TV below of RATT's recent performance at the Rocklahoma Festival in Pryor, Okla.