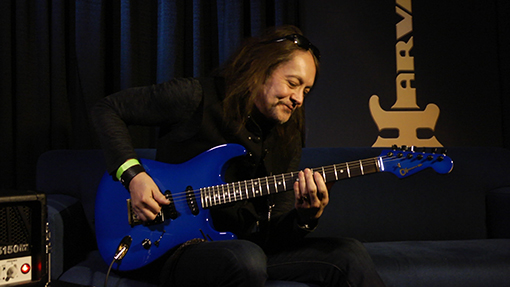 Red Dragon Cartel guitarist Jake E Lee sat down with Charvel to discuss what initially inspired him to want to play guitar (any guesses?) as well as some of his favorite features on his Charvel USA Signature Blue Burst guitar.
His original Blue Burst guitar gained notoriety during his stint with Ozzy Osbourne, as he recorded and performed live with the famous instrument throughout the band's pivotal Bark at the Moon and Ultimate Sin years.
In the clip below, Lee reflects back on that "interesting and special" time, calling it "one that I don't think happens to a lot of people."
As far as his Blue Burst, Lee explains why he's a fan of slanted pickups, hardtails, thinner necks, wood with resonance and so on. He also touches on his longtime loyalty to Charvel, and how it all began.
"Eddie [Van Halen] used a Charvel and he was the guy who turned the whole guitar world upside down," says Lee. "So, he kind of made it cool. You were either a Fender guy or a Gibson guy really and then Eddie comes along and f's everybody's shit up with his playing and he was playing a Charvel. It kind of became synonymous with just cool. Charvel. Yeah, I play Charvel.  It sounds cool. Everything they've made, even stuff I didn't particularly care for — it's well made, it's as good as you can get. I can't think of another brand or company that I would trust with making me stuff."
Enjoy the video below …