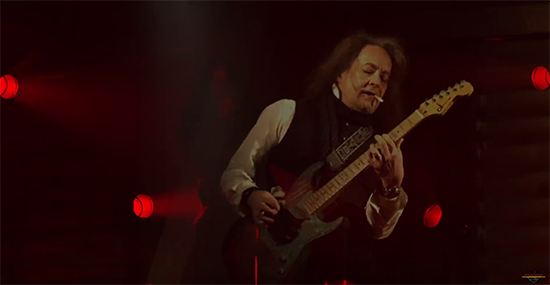 With sophomore album Patina slated for November, Jake E Lee's Red Dragon Cartel is giving fans its first sampling of the new tunes with the official music video for rollicking (diff word) lead single "Havana."
"I chose 'Havana' as the first song to be released from the new album for a few reasons," Lee told Guitar World. "First off, it begins with a lone guitar playing the riff, promoting the idea that this is a guitar-heavy record. The song's production is about as straightforward and basic as it gets on this album and I wanted it to be apparent that, overall, it's more of an old school approach, as opposed to its predecessor. And it's just a cool riff I couldn't wait to share with anyone interested in what I'm doing!"
In the clip, the band (also featuring drummer Phil Varone, singer Darren James Smith and bassist Anthony Esposito) performs the track live in a dark venue. With a cigarette hanging out of his mouth, Lee rips into a new Charvel model custom-built by Master Builder Chip Ellis. Inspired by the album's title, the guitar was sandblasted and stained with a patina finish also applied to the copper-plated hardware.
Recorded at Esposito's Obscenic Arts studio in Dillsburg, Pa., Patina was co-produced by Lee and Esposito and mixed by legendary producer Max Norman.  Featuring 10 tracks, the new efforts leans more towards a bluesy hard rock direction as opposed to the band's heavier debut album.
"The first album was more of a piecemeal production with some of the song ideas being 10 years old and never having more than one player in the room at any time," said Lee. "I wanted to do this one from scratch with all the songs originating and worked on with everyone in the room, on their instruments. It felt much more organic, like the way I used to do it for the first 20 years of my career — more honest to my roots."
Lee's inspirations for the album also spanned quite the gamut.
"My inspirations for Patina are from the artists I loved during my youth," he said. "Robin Trower, Santana, Black Sabbath, Captain Beyond, Thin Lizzy, Grand Funk Railroad, Dave Bowie … I could go on and on, but let me also say that there are also hints of Sly & the Family Stone, Dick Dale, psychedelia and even some George Benson. Don't let any of that scare you — it all makes sense!"
Patina will drop Nov. 9. In the meantime, enjoy watching Lee and company below …