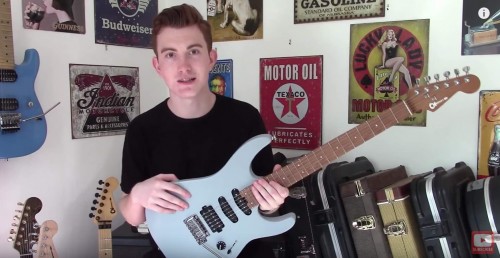 U.K.-based axeman Cameron Cooper showed off his swift fret work in a new video review of the Charvel Pro-Mod DK24 HSS 2PT CM in Primer Gray.
Cooper kicked off his review with a demo of the DK24's versatile tones. A Custom Seymour Duncan® Full Shred SH-10B bridge pickup delivered crystal clear warm notes while a Seymour Duncan® Custom Flat Strat SSL-6 single-coil middle pickup and Seymour Duncan® Custom Flat Strat SSL-6 RWRP single-coil neck pickup pack plenty of bouncy, Strat-like tones.
After the quick tone demo, Cooper ran through the DK24's specs and expressed a particular love for the back body contouring, which features a carved belly cut that comfortably hugs the player's body, as well as the baked caramelized maple neck and fingerboard.
"For those of you who have never owned caramelized maple before, it's an experience to behold," said Cooper. "A cooked maple neck is… completely impervious to climatic changes, all of the moisture is sucked out of it when it is cooked. In terms of feel, it is unbelievably comfortable. [The neck] feels familiar as soon as you try it."
His bottom-line conclusion?
"[Charvel] has done it again, guys. It is a truly amazing guitar, super high quality, a really amazing instrument," raved Cooper.
Check Cooper out in action in the video below.