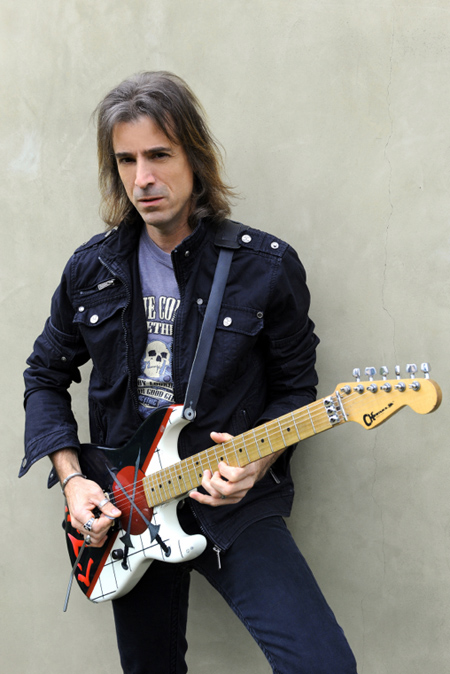 The legendary Warren DeMartini is slated to head to Japan soon with former Ozzy Osbourne guitarist Jake E Lee to attend a series of meet-and-greets with fans.
The duo actually share a long history together, as Lee was briefly a guitarist in RATT and his departure opened the door for DeMartini to join the band.
As DeMartini gears up to hop across the pond, Charvel.com caught up with him to talk about the sold-out events and his relationship with Lee.
Charvel.com:  What can you tell us about the clinics?  Have you done this before?
DeMartini: I'm very excited to spend a few days with my old pal Jake E Lee.  I've done one clinic in Japan way back during our first or second visit there sot this is almost a first for me. We haven't worked out what we're going to do yet, but I think we're going to be talking a lot about our Charvel guitars and our history with the brand.  And of course, we're going to play.
Charvel.com: How did you first get involved with Charvel?
DeMartini: I kind of happened onto it by accident.  I was visiting Grover [Jackson] one day, and he was making several necks based on a classical guitar template.  They were very wide and thin, and I really liked the feel of them.  He made some for me, and I had those put on the Crossed Sword … and pretty much everything I was experimenting with at the time.  I've got three or four guitars that have that template.  That was the guitar I recorded "Lay It Down" with and "You're In Love."  By then, I had a good collection of amps, and those guitars were all part of the sound back then.  It was a great find, and they still sound great.  I have the original within reach.
Charve.com: How did you first meet Jake E. Lee?
DeMartini: We met at a show when he was playing with Robbin Crosby and Nikki Ratt with a band called Phenomenon.  I was in high school, and after the gig, we started talking and a friendship began.  Then, a few years later, Jake was moving on from RATT, and I replaced him.  To help that happen as smooth as possible, I moved into the house he was at with three or four other musicians.  I stayed there for a few weeks while he showed me how to play the songs.  I'd heard them, but never played them.  It was very exciting.  I moved up on a Monday, and that Friday we had a show at the Troubadour.
Charvel.com: Any interesting Jake E. Lee stories off the top of your head?
DeMartini:  So many.  Imagine this: We're both hanging out in the middle of the night watching a crappy TV with bad reception, sitting on the floor with our backs against the couch.  I'm chipping away at the chords to "Round and Round," and he's chipping away at the chords to "Bark at the Moon."  We had no idea where those songs would take us.
Charvel.com:  You were featured in Dave Grohl's recent film Sound City.  What did you think of the final product?
DeMartini: I thought he did an amazing job with it.  Some of my favorite parts were with Butch Vig.  Those were very interesting.  It was a great piece on a great studio.  The funny thing is that we cut the drums and bass in there for Out of the Cellar, and when I got the call to do an interview for the movie – it sounded like an amazing project – I said "Yeah, sure," right then.  But then after I hung up, I immediately called Jim Faraci, who engineered Out of the Cellar, and asked him, "Did we ever work at Sound City?" [laughs]  He told me we did, but I almost thought it was a rehearsal place!  At the time, I had no idea about the history of the place, so it was cool to learn about that with the movie.
The clinics will take place Nov. 13 in Tokyo, Japan, and Nov. 15 in Osaka, Japan.