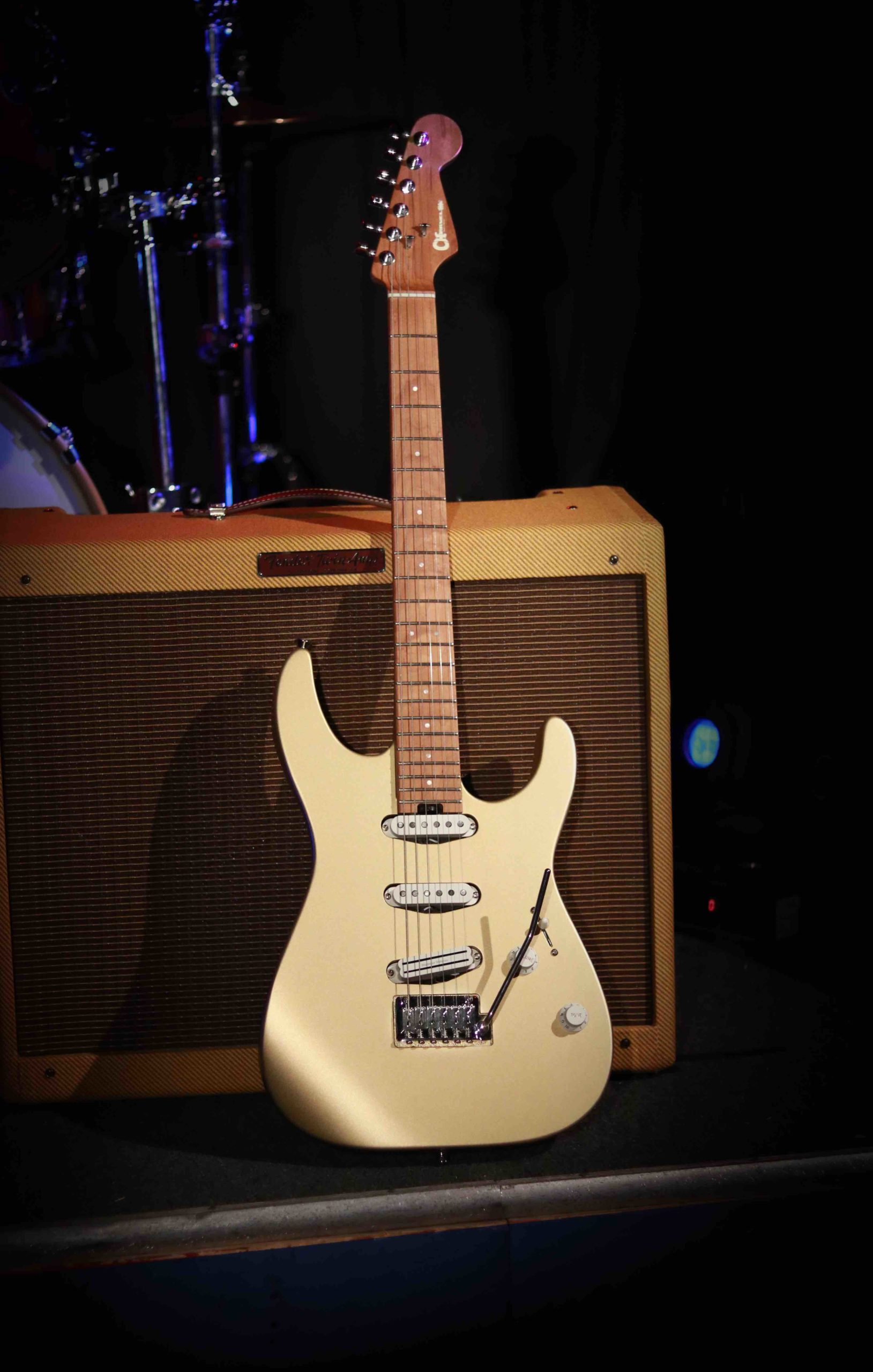 The Charvel Pro-Mod DK22 SSS 2PT CM struck it rich in the October issue of Guitar World, earning the magazine's "Platinum Award" and a "solid gold" review.
"The features for the DK22 SSS reads like a shredder's wish list," wrote reviewer Paul Riario, starting with the caramelized neck and compound radius fingerboard.
"'Roasted' necks are all the rage right now, and that's a good thing," said Riario. "Its caramelized maple neck and fingerboard are baked for durable stability. So, even though the guitar features a convenient heel-mount truss-rod adjustment wheel for speedy neck-relief tweaks, you'll rarely need to use it."
The model's contouring and bolt-on design also impressed Riario.
"For a bolt-on guitar, the DK22 SSS possesses a continuous flow from neck to body that's elegantly coupled, just as if it's neck-through constructed," he remarked. "Between the beveling, scalloping and sculpting throughout its contours, the guitar facilitates fluidity in your playing, not to mention incredible comfort in its overall balance."
Riario was also a fan of the DK22 SSS pickup routing.
"It's been a while since I've seen a triple-pickup configuration with a reverse-slanted bridge pickup, and the Seymour Duncan pickups are a great choice here for conjuring new tonal flavors," wrote Riario. "Because the Hot Rails pickup is tilted toward the bridge on the rhythm side, the humbucking tones have razor-sharp heft for chords and gutsy slice for solos when you pump hi-gain crunch through it. In contrast, the Custom Flat Strat pickups certainly cast vintage-style sparkle; however, the neck pickup with its reverse-wound, reverse-polarity, nails that flutey SRV-style single-coil spank. The five-way switch offers a bevy of tonal options in how it splits the pickups, but you'll mostly get lost in how easy this guitar is to play. Not to state the obvious, but the guitar is golden."
The bottom line?
"The Charvel Pro-Mod DK22 SSS 2PT CM is an awe-inspiring example of a high-velocity superstrat with universal appeal that will empower you to push the boundaries of your playing, wrote Riario.
Grab the October issue of Guitar World for Riario's full review of the DK22 SSS.